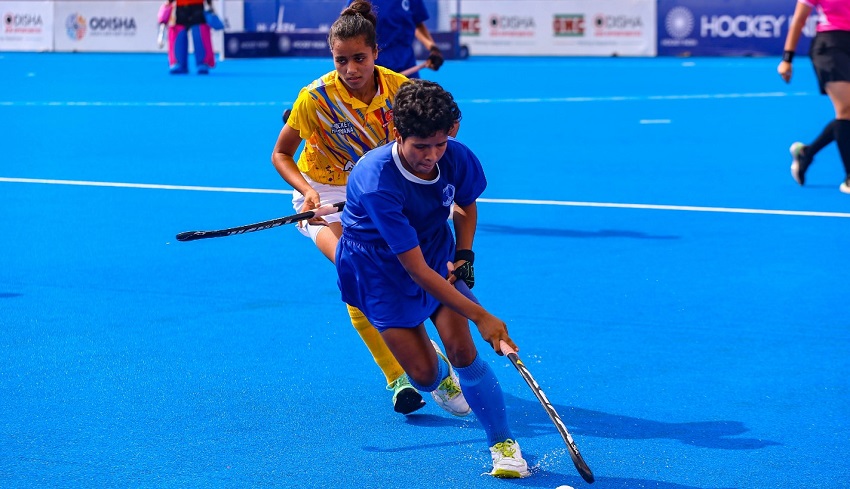 rourkela: Day 7 of the 13th Hockey India Junior Women's National Championship 2023 witnessed amazing performances from Hockey Maharashtra and Hockey Haryana as they recorded victories in their respective matches at Birsa Munda Hockey Stadium in Rourkela, Odisha.
In the first match of the day, Hockey Maharashtra defeated Delhi Hockey 6-2 in Pool D. Captain Himanshi Gawande (5′, 28′, 33′) led from the front and scored a hat-trick for her team. Khushi (20′, 50′) also scored a brace to maintain Hockey Maharashtra's lead, while Sanika Chandrakant Mane (35′) scored a goal. In response, Muskan (24′) and Subham (40′) each scored a goal for Delhi Hockey. Hockey Maharashtra recorded their second straight win in the tournament.
In today's second match, Hockey Haryana defeated Hockey Bengal 10-4 in Pool A. Pinki (5′, 32′, 37′, 51′) stood out as the best player in Hockey Haryana, scoring four goals. Ishika (11′, 51′) and Sakshi Rana (19′, 47′) scored twice to strengthen their position, while Sejal (14′) and Sukhpreet Kaur (60′) each scored for Hockey Haryana. On the other hand, Priyanka Guria (1′, 12′) and captain Sanjna Horo (38′, 49′) each scored two goals for Hockey Bengal.
Notably, Jharkhand Hockey will face Hockey Rajasthan and Odisha Hockey Association will face Tamil Nadu Hockey Unit later today.
Also on Sunday, Hockey Uttarakhand defeated Hockey Gujarat 9-0 in Pool G. Kajal (6′, 11′) and Captain Prachi (14′, 36′) scored a brace for Hockey Uttarakhand while Saloni Pikhwal (7′) , Neelam (26′), Ankita Mishra (35′), Nisha (52′) and Pushpa (57′) each scored a goal to take the game away from Hockey Gujarat.
In the other match, Chhattisgarh Hockey defeated Uttar Pradesh Hockey 5-2 in Pool F. Anisha Sahu (10′, 22′) scored a pair of goals for Hockey Chhattisgarh while Aanchal Sahu (12′), Sunita Kumari (51 ') and Monika Tirkey (56′) scored a goal each for Chhattisgarh Hockey. In response, Sakshi Shukla (7′) and Suneet Kumari (28') each scored a goal for Uttar Pradesh Hockey.
In the last game on Sunday, Hockey Bihar defeated Dadra & Nagar Haveli and Daman & Diu Hockey 5-1 in Group F. Fensi Khatun (19′, 35′) and Arti Kumari (27′, 30′) scored two goals each for Hockey Bihar while Kajal Kachhap (56′) also scored a goal against their opponents. In response, Meena Kumari (45′) scored a consolation goal for Dadra & Nagar Haveli and Daman & Diu Hockey.