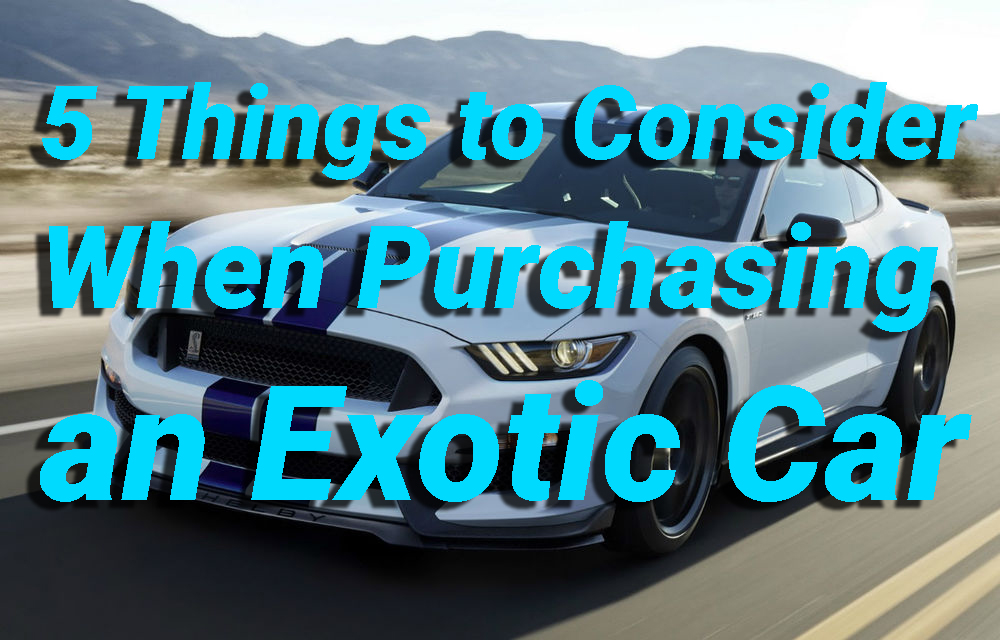 Style, personality and charisma, all combined in one package, is what luxury or an exotic car adds to your lifestyle. There are numerous options available in exotic cars and each brings a different flavor to your collection, but if you are buying an exotic car for the first time, you need to be a little careful. A brand new luxury car doesn't need a lot of hassle, but for people looking to buy a used exotic car, some issues require attention. Keeping in mind the intricacies of buying a luxury car, we will list these 5 most important things to consider when buying an exotic car for the first time.
Buying an exotic car is different
First, you need to understand that a luxury vehicle is not the same as a regular car. Some aspects are peculiar to exotic cars that you don't have to consider when buying a Prius or truck. For example, you cannot sell your exotic vehicle as you please. It takes time to sell a luxury car, as the buyers are specific so the market is limited. Likewise, you don't get maintenance of an exotic car on every block. In addition, spare parts are expensive and sometimes rare. Therefore, be careful before deciding to buy an exotic car and do so only after a thorough analysis.
5 things to know before buying an exotic car
You may not need an exotic car if you need it for a specific occasion. you can rent a luxury car for that purpose. However, if you decide to buy an exotic car, these 5 things should be on your checklist before paying for your vehicle.
Look for a reputable dealer
A reputable retailer makes the difference between a smart purchase and a stupid mistake. The luxury car market isn't saturated, so dealers for such exotic cars aren't on every corner of the block. For this reason, you need careful research and good referrals to finalize a reseller. Not that you need the one dealer, but you have to make a decision even if you try many luxury car dealers to get a better deal. To make an informed decision, try to find someone who bought an exotic car from that dealership and find out what they think about the service. If you can, you can go online and check the reviews that buyers have left there. Social media can be a great place to start as many people use these pages to vent their frustration if they haven't gotten a good deal.
Know your cars before making a decision
Research and information are the real power in this field. As a beginner, you can just do some research on different brands, brands, models, colors and styles. Thankfully, social media and the internet have made it easy. You can check hundreds of cars online and see if there is a perfect car for you online. You may not make an online purchase, but you can definitely get an idea of ​​what kind of exotic car you want to buy. Many people are wondering what the easiest way to sell my Porsche it is, and the right answer for that is a lot of research and a reputable dealer. However, with a good knowledge of cars, you can easily select the best dealer and a great car for you.
Select the one that fits your personality and finances
A Rolls Royce is a great car, but is it for you? Are you the kind of person who wants to buy a Bentley? Does Ferrari suit you more or is a Lambo more to your taste? James Bond likes to use Aston Martin, but would you prefer it if you are an entrepreneur? These are all questions related to the taste and personality of the buyer. Many people make the mistake of buying an exotic car that is too flashy and flashy, but then regret their decision. As the luxury car market is very specific, selling such a car also becomes a problem. With this in mind, always choose an exotic car that you can keep for a long time if necessary and that fits your personality. Beyond that, you also need to do a critical assessment of your finances and buy a car that doesn't drain your bank accounts.
Discover the history of the car
A luxury car must have a great history. Maybe not a fairytale story, but a good track record and an unblemished story. Accidental and sometimes luxury cars are also available on the market Maintenance makes them exactly brand new. However, they still have their problems, so be careful when buying an exotic car. Also, your car must not have serious involvement in criminal activity. While you are not responsible for other people's crimes, a car with a criminal record could prove to be a liability as people will not buy it at a good price if and when you decide to sell it. When you can't sell a car for a good price, half of its appeal goes tasteless.
Check the documents before taking the car
Closely related to the previous point, car cards are one of the most important factors in a vehicle's history. A car with shady documents it doesn't have to be your choice even if you're getting a great deal. There are potential risks associated with such a car, and sometimes stolen cars have been sold with forged or manipulated documents. Always insist on original and complete documents to avoid a car that could cause problems at a later stage. The best way to do this is to do the VIN Check and immediately find out if the car is legitimate or has any problems associated with its name. Once purchased, take care of your exotic vehicle to have a good feel for a long time and a good price in case you decide to sell it.