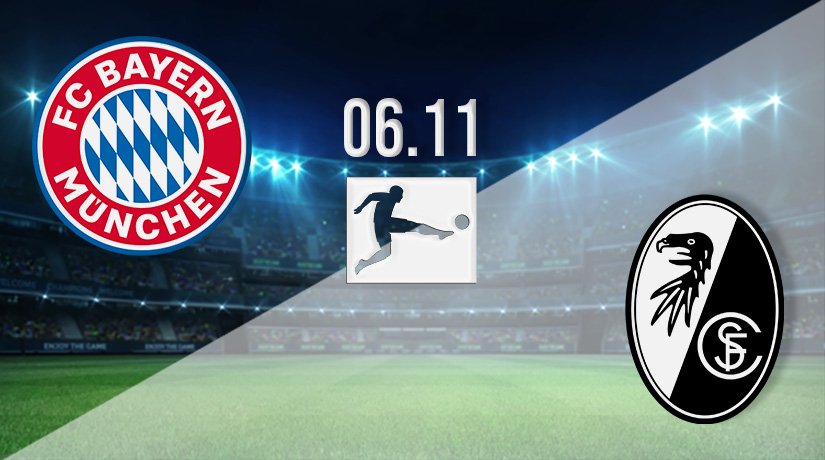 Bayern Munich have scored five goals in each of their last two games, winning by a score of 5-2 in both. The next step is Freiburg at the Allianz Arena to face the German champions at 15:30 GMT.
Third-placed Freiburg have been impressive this season. Being three points behind Bayern Munich in the lead and five points ahead of fourth-placed Leverkusen puts them in an excellent position to qualify for the Champions League next season.
The clash against Bayern Munich will seriously examine the team's credentials, given the Bavarians' ruthless streak of goals.
Game preview
Can Freiburg cause an upset?
Freiburg got off to a great start in the 2021/2022 season with six wins and four draws. Christian Streich's men are the only team still undefeated in the Bundesliga.
The statistics highlight the fantastic start to the season; While Freiburg has scored 17 goals (the lowest in the current top four), they have conceded only seven, the best defensive record in the league.
This sets the match at the Allianz Arena as the best offensive team in the Bundesliga, Bayern Munich, with 38 goals against the league's best defensive unit, Freiburg having conceded just 7 goals.
Will Bayern Munich be able to maintain their scoring form?
Fresh off a landslide 5-2 win over Benfica in the Champions League, Bayern Munich turns their attention to visiting Freiburg.
The Bavarians are doing well in defense, having conceded only 10 goals, three more than Freiburg. In Robert Lewandowski, Bayern Munich have a huge scoring machine, as evidenced by his hat-trick against Benfica in the middle of the week.
Julian Nagelsmann is aiming to extend the lead in the Bundesliga, which is currently tight as only one point separates Bayern from second-placed Dortmund with 24 points.
Form Guide
Bayern Monaco
In their last five Bundesliga outings, Bayern Munich have won four and lost one. Notably, they suffered the humiliating and surprising 5-0 defeat to Monchengladbach in the second round of DFB-Pokal, which perhaps proved that the Bavarians are after all human beings.
Overall, the Bavarians have been in excellent form, sacking 38 goals this season and conceding just 10. This leaves them with a goal difference of 28 compared to Dortmund's +12.
Sc freiburg
In their last five games, Freiburg have won four and drawn one match. Losing just two boxes in the last five has propelled them to third place in the Bundesliga standings.
Freiburg are also unbeaten in their last four away games with three wins and a draw that has collected 10 points. The draw was 0-0 in Mainz.
At home, Bavaria have won four and lost one of their last five games, racking up 9 points.
The form guide indicates that the two teams are flying into the Bundesliga right now. With only three points separating the first from the third, this promises to be a huge test for both sides and their credentials this season.
Team news
Bayern Monaco
The only injury absentee Julian Nagelsmann will have to worry about is Eric Maxim Choupo-Moting. The 32-year-old has been missing since October 25ns with a muscle injury. He has missed three games so far and the Freiburg match will prove too soon for a return.
Despite a team free from injuries and suspensions aside from Choupo-Moting, Nagelsmann will have to deal with the workload of his players, especially after playing midweek against Benfica.
This is particularly important as Freiburg had the whole week to prepare their game plan for this match.
Sc freiburg
Christian Streich has four players of the first team absent due to injury and therefore not available for selection.
Right-back Jonathan Schmid has tested positive for COVID-19 and has missed 8 games so far this season since 9 Septemberns. He shouldn't be back for the Bayern game.
Left-back Ezekwem (fitness problems), right winger Roland Sallai (knee problems) and center-forward Nils Petersen (knee problems) cannot be chosen by Christian Streich for Saturday's match.
Possible initial formations
Bayern Monaco
News; A. Davies, L. Hernandez, N. Sule, J. Stanisic; C. Tolisso, J.Kimmich; L. Sane, T. Muller, K. Coman; R. Lewandowski
Sc freiburg
spots; N. Schlotterbeck, P. Lienhart, M. Gulde; C. Gunter, N. Hofler, E. Eggestein, L. Kubler; V. Griflo, L. Höler, WY Jeong
Players to watch
Robert Lewandowski
After his immense performance against Benfica in the Champions League, closing the game with a hat-trick and the ball, Lewandowski is the undisputed danger man for Bayern Munich.
His goal ensures that the spotlight will always be on him in matches. This also means that he will probably be decisive in the Bavarians' games.
In this match, against Freiburg's organized defense, Bayern will need Lewandowski at his best to have a chance to take all three points.
Lucas Höler
Given Bayern Munich's form, Freiburg is likely to need their striker Lucas Höler in inspired form.
Lucas Höler has been pivotal for Freiburg this season with some vital goals. He is likely to be the front man charged with the responsibility of breaching Bayern's defense and marking a turning point in what promises to be a tough match.
Prediction
Expect Bayern Munich to start this match at a high pace, pushing Freiburg onto the pitch, maintaining ball possession and launching attacks along the flanks and through the center players: Muller and Lewandowski.
Expect Freiburg to try to stop Bayern from scoring for as long as possible, soak up the pressure and look for stylish passing patterns that help them maintain good ball possession and pose a danger to Bayern.
Bayern are in imperious form and should inflict their first defeat of the season on Freiburg and win all three points.
Make sure you bet on Bayern Munich-Freiburg with 22Bet!