Expectations for today's Joe Biden-Vladimir Putin summit are extremely low. An early test: will Putin arrive in time? Russia's president has a long history of keeping world leaders waiting, in what appears to be a deliberate KGB-style outperformance.
Senior US officials, well aware of Putin's delay, have drawn up a protocol according to which the Russian leader is supposed to reach the summit site first, an 18th-century villa in Geneva's Parc de La Grange. The Kremlin has apparently approved this.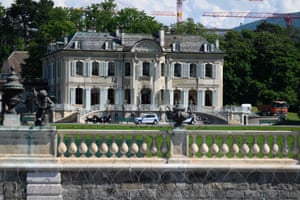 On Twitter Tuesday, Michael McFaul, a former US ambassador to Moscow, said this ensured that Biden "will not be waiting uncomfortably" for the other guy. McFaul also praised US officials for avoiding a joint press conference after the talks, which would give Putin a platform to sell propaganda and "disinformation."
And yet. In 2012, Putin kept President Obama waiting for 40 minutes at a G20 summit in Los Calobos, Mexico. Three years later I was an hour late for an audience with Pope Francis at the Vatican. He even kept the queen enduring 14 minutes during a state visit to Britain in 2003. It would be remarkable if Biden didn't experience similar treatment.