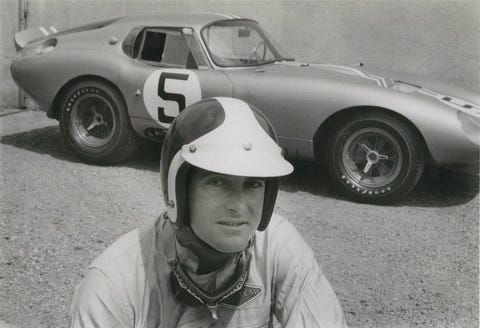 Bob Bondurant, who went from winning races on the international stage to teaching others to win races at his famous Bondurant high-performance driving school, has died at the age of 88. Bondurant had been in an assisted living facility for some time.
In racing, Bondurant was part of a small group of American drivers who traveled to Europe in the early 1960s to challenge the best in the world in sports cars and Formula 1, after several years driving sports cars in the United States.
Bondurant got his start in the burgeoning West Coast auto racing scene, competing against the likes of Dan Gurney, Carroll Shelby and Ritchie Ginther before any of those guys got famous. At first he raced Corvette, winning the LA Times 1962 Grand Prix.
From there he started racing for Carroll Shelby and switched to Cobras. After victories in the United States driving Cobra, Bondurant went to Europe for the 1964 season, where he competed in races that are now legend: Spa, Nürburgring and the Targa Florio. But it was his class win driving the Cobra Daytona coupe at Le Mans that year that may have been his crowning glory on a track. He won the GT class at Le Mans together with his American colleague Dan Gurney. The following year he helped bring home the FIA ​​Constructors' Championship for Shelby and Ford. He also drove a Ford GT40 Mk I, Ferrari 365 P2 and Corvette in sports cars in 1967.
In Formula 1 Bondurant raced for Ferrari, BRM and Dan Gurney's AAR team. His career best was a fourth place in Monaco in 1966 piloting a BRM.
An accident the following year at Watkins Glen marked the end of his racing career. But when the driver's door closes, another door opens and a second career as an instructor opens up. He helped coach the actors in John Frankenheimer's 1966 film Grand Prix, and went on to found the Bondurant School of High Performance Driving in 1968, after working for Carroll Shelby as an instructor. Two of the school's first students were actors Robert Wagner and Paul Newman. The experience led to a lifelong interest in racing for Newman, who remained friends with Bondurant for the entire life of both men.
A press release for his school about 10 years ago sums up Bondurant's move to teaching people to drive instead of just driving himself: "He is best known as the foremost authority in advanced driver training and has been at the forefront. in professional driving education since the late 1960s. Using the Bondurant Method, over 250,000 students ranging from housewives, racers and celebrities to teenagers, professionals and police officers have learned from the Bondurant experience.
"On February 14, 1968, the doors opened at Orange County International Raceway, near Los Angeles, with three students. The next week there were two students, Paul Newman and Robert Wagner, preparing for the film. Winning. Bondurant was a technical consultant, camera driver and actor-instructor for the film. Since then, both Bondurant and his school have been successful after success. "
It has been successful for nearly 40 years. The school eventually ran into trouble though, plagued by allegations of mismanagement, and … filed for bankruptcy in 2019. Its assets were sold to new owners, who apparently did not buy the Bondurant name. Under the new owners the school is still going strong, with new asphalt and many of your favorite instructors, but it is under the name Radford Racing School.
When it was still Bondurant School, and Bob was there every day, those who worked for him loved it.
"I knew Bob very well, he chose me to go to work for his racing school right after I graduated from high school and worked there for about four years," said driver and instructor Tommy Boileau. "I spent most days with him for about four years. Bob was just, he was absolutely amazing. He was just a kind soul and listening to him tell the stories of when he was in his prime and racing in Formula 1 for Ferrari, do all of them. those awesome things, and then just all the awesome actors and celebrities he worked with in his racing school years, he was definitely one of a kind, he was a character.
This content is created and maintained by a third party and imported on this page to help users provide their email addresses. You may be able to find more information about this and similar content on piano.io