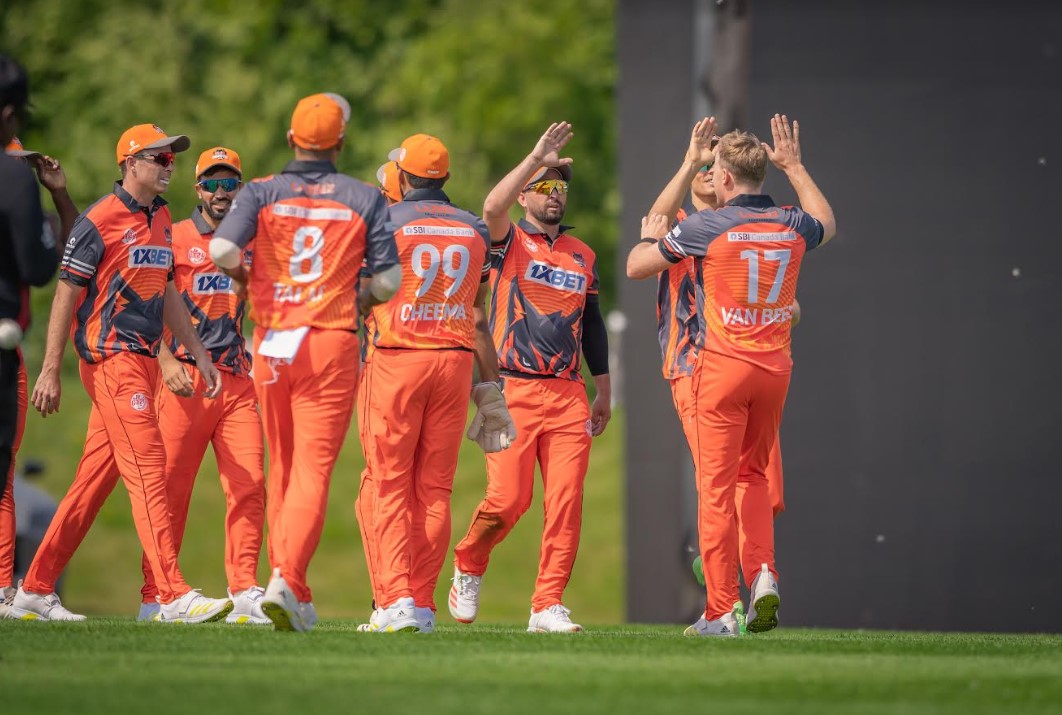 brampton: In a thrilling opening match of Global T20 Canada, Brampton Wolves pulled off a thrilling victory at the TD Cricket Arena in Brampton, defeating the Mississauga Panthers by 44 runs after inclement weather forced the result to be decided by the Duckworth Lewis method. After the toss, the Brampton Wolves put the Mississauga Panthers up to bat. Holland's Logan Van Beek was the choice of Wolves' bowling attack and showed an exceptional performance with four wickets for just 12 runs in his four overs, while Chris Green chipped in with two crucial wickets. Azam Khan put on a stellar display with the bat as the Panthers' leading scorer with 65 runs from just 54 deliveries, helping them finish with 121 runs in their innings. In response, Brampton Wolves opener Aaron Johnson and Mark Chapman played a crucial match-winning partnership, leading his side to a comfortable win after play was stopped.
The Mississauga Panthers got off to a staggering start to their innings, struggling to capitalize on downfield restrictions during the power play due to a slow surface. With just 28 runs on the board and three wickets down, their top order faced difficulties in the early phase of the innings. Tim Cooper (3) was unfortunate enough to be without a team, which added to his problems. However, Chris Gayle (10) looked to find a rhythm from him, breaking back-to-back boundaries before falling victim to an excellent delivery from Logan Van Beek. Azam Khan (65), batting at number five, took control of the innings and formed a crucial partnership with Canadian national player, Navneet Dhaliwal, who scored 29 runs from 32 deliveries to deny a challenging batting surface.
While Azam Khan began his innings with a vigilant approach, he broke the shackles at the intermissions, reaching his half-century in just 38 deliveries. A series of exceptional strikes left the Brampton Wolves bowlers searching for answers. However, the departure of Navneet Dhaliwal was followed by quick dismissals of James Neesham (1), Usman Qadir (2) and Jaskaran Singh (0), leaving the Pakistani batsman without much support, before he himself came out in the 20th. The Panthers finished at 121/10.
In response to the Mississauga Panthers, the Brampton Wolves came out with all guns blazing. The wicket-keeper's batsman, Usman Khan (12) knocked them off the mark with a massive six in just the second innings delivery before going off for 12 runs in just six innings. Opening with Usman Khan, Canadian batsmen Aaron Johnson (48) continued the attack along with New Zealand's Mark Chapman (30) who came in at number three to put together a 76-run partnership. Aaron Johnson played an impressive strike with five limits and three sixes for his 48 runs which came in just 26 deliveries, while Chapman backed him up with a solid 30 run strike in 22 deliveries.
With Brampton Wolves needing a comfortable 23 runs in 11 overs, the umpires called the players off the pitch due to poor lighting. The match was awarded to Brampton Wolves with the Duckworth Lewis method giving Wolves a 44-run victory.
The action will resume tomorrow with a double header. The Vancouver Knights will take on the Toronto Nationals, while the Surrey Jaguars will take on the Montreal Tigers in the second game of the day.
The matches will be broadcast live on FanCode and cricket lovers in India can also watch them live on Star Sports.
Tickets are available at https://www.google.com/url?q=http://www.gt20.ca/&source=gmail&ust=1690002077065000&usg=AOvVaw0lyb6qiO_2vIHimjBva7l6″>www.gt20.ca
Brief scores:
Mississauga Panthers – 121/10 in 19.4 overs (Azam Khan – 65 off 54 balls, Navneet Dhaliwal – 29 runs off 32 balls, Logan Van Beek – 4/12, Chris Green 2/17)
Brampton Wolves – 99/1 in 9 overs (Aaron Johnson – 48 runs off 28 balls, Mark Chapman – 30 runs off 22 balls, Zahoor Khan 1/14)
Wolves won by 44 runs (DLS method)