Charging
"We will unapologetically pursue our industrial strategy at home," National Security Adviser Jake Sullivan said during a speech in April, "but we are unequivocally committed to not leaving our friends behind."
Westacott described the Inflation Reduction Act as an economic "game changer" and likened it to a clean energy version of former President Franklin Roosevelt's New Deal, which sought to boost the post-Depression economy through federal spending, job creation and regulatory reform.
And while countries like Australia and Canada would have a hard time attracting the same kind of capital, they could collaborate on other things, such as greater regulatory certainty for companies, better policies, and "a realistic approach to developing technologies like hydrogen, carbon capture and storage, and nuclear," he argued.
"What really matters is how we respond to the Inflation Reduction Act," he said. "We're going to have to double down on sensible industrial policy to boost our comparative advantages and absolutely double down on getting the economic fundamentals right like we've never done before."
Westacott spoke at the Australia-Canada Economic Leadership Forum, which brought together some 150 business and political leaders from both countries, including Canadian Prime Minister Justin Trudeau, former Australian Foreign Minister Julie Bishop, who is now co-chair of the group, and Australian Attorney General Mark Dreyfus, who used the event to speak about the importance of Indigenous Voice before parliament.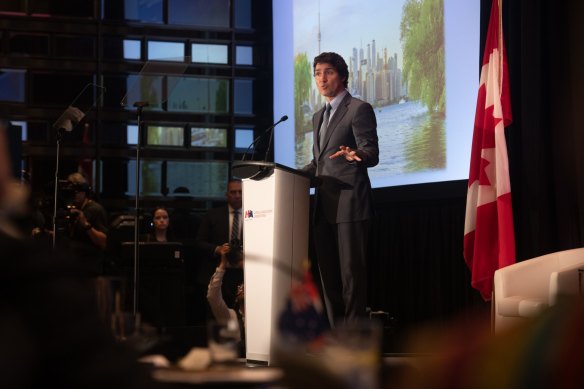 The forum seeks to identify areas where the two countries can work more closely on trade, investment, foreign policy and global security, but this was the first time it has been held since February 2020 in Melbourne, days before the world was hit by the global pandemic.
Noting how much had changed since then, Trudeau spoke about the importance of the partnership between the two countries, pointing to the Critical Minerals Alliance, established at COP15 in Montreal late last year, as evidence of this.
The compact between Canada, Australia, the US, Germany, France, Japan and the UK commits to extracting and developing critical minerals sustainably and in a way that also respects indigenous rights.
"In the global race to build a net-zero economy, the world is racing to access critical minerals held by Australia and Canada," Trudeau said.
"But we must move quickly to meet demand for major projects, from critical mineral mining projects to hydrogen-producing wind farms."
Westacott said the transition to clean energy brought great opportunities, but also enormous risks and costs. He also noted that developing nations need reliable and affordable energy sources, and "telling these countries to decarbonise before they have industrialized could become a huge strain."
"Are we just going to withdraw our existing commodities (gas and coal) and leave rapidly developing countries stranded? They will have no alternative but to look for new markets".
With 3.5 billion people expected to make up the Asian middle class by the end of the decade, Westacott also called for new multilateral agreements with Indo-Pacific nations.
"The economies of the Indo-Pacific region are expected to grow almost double that of Australia, Canada and the US in the next five years," he said.
"As these super economies grow, the market opportunities for our countries also grow, but on the other hand, they will also be our economic competitors."
Get a story straight from our foreign correspondents on what's making headlines around the world. Sign up here for the weekly What in the World newsletter.