It's only been a little under two years since TikTok Shop made its foray into Southeast Asia, but its rapid growth may give Shopee and Lazada a run for their money.
While primarily known as a social media platform for short videos, TikTok began dipping into e-commerce in late 2021. By 2022, TikTok Shop has refocused its efforts on Southeast Asia, expanding to six countries in the region. : Singapore, Malaysia, Indonesia. , Philippines, Vietnam and Thailand.
In TikTok Shop, brands and influencers can link products to shop in videos or go live to sell products available for purchase within the app.
The platform has also intensified its e-commerce efforts, such as the inclusion of new features, merchant incentives, as well as partnerships with e-commerce enablers and logistics partners. Their efforts have undoubtedly paid off: in 2022, TikTok Shop's GMV in the region has shot up more than four times to US$4.4 billion.
Social commerce is booming
Social commerce, an e-commerce approach that allows companies to sell products directly to consumers within the app, has changed consumer buying habits.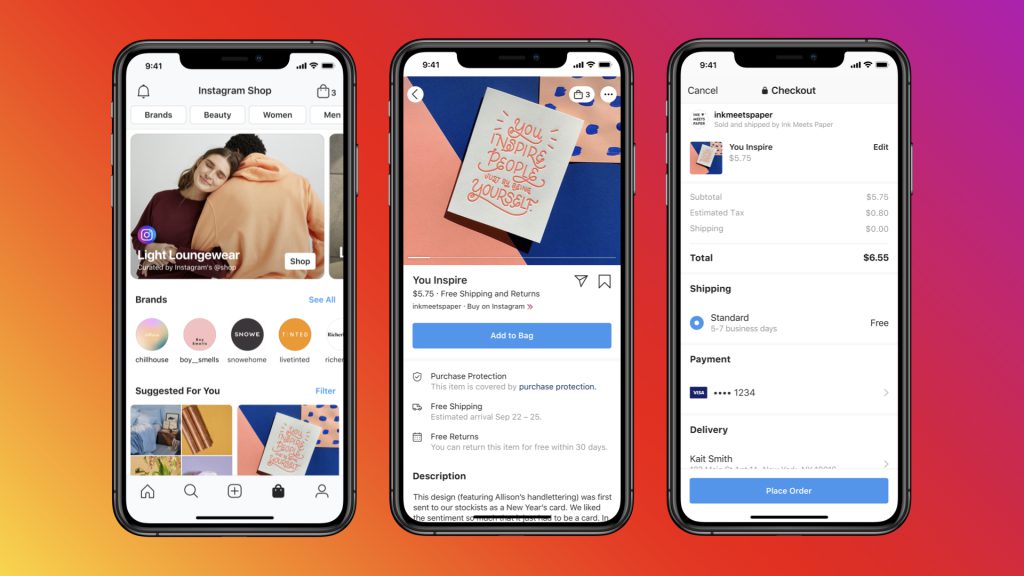 According to a McKinsey report, consumers in Southeast Asia buy products online through more diversified channels, including social commerce platforms like the TikTok Shop, Facebook Marketplace, and Instagram Shop.
The popularity of social commerce in the region has been accelerated by high mobile Internet penetration rates. This first mobile generation is spending a lot of time on social media and increasing engagement.
On a broader scale, a 2022 study by TikTok and Boston Consulting Group revealed that social commerce could uncover a US$1 trillion market value for brands in the Asia Pacific region by 2025, up from US$500. billion US dollars by 2022.
However, even among social commerce players like Facebook Marketplace and Instagram Shop, TikTok Shop stands out from the rest.
For starters, TikTok Shop's algorithm-based content discovery system ensures that videos with potential sales value are exposed to the right target audience, which in turn increases the chances of conversion.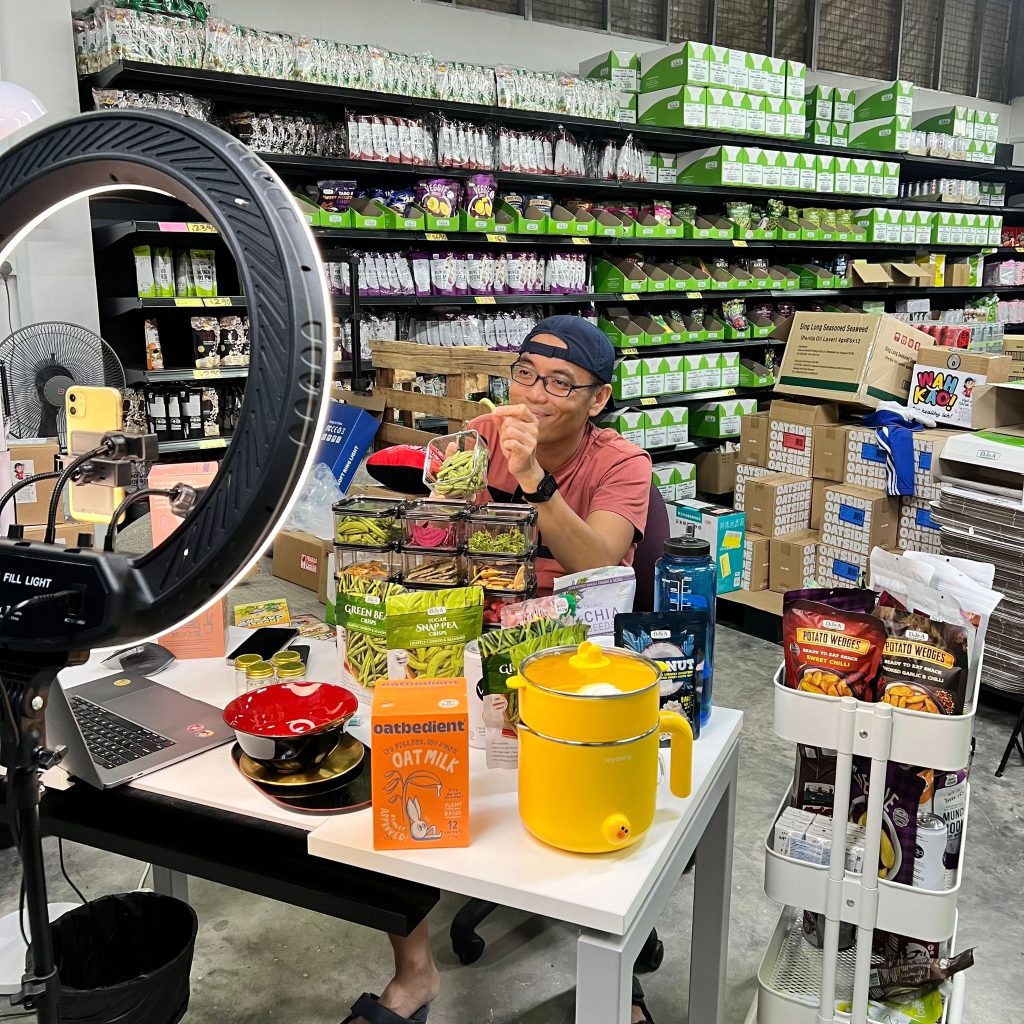 The platform also takes advantage of its popular video sharing feature to control online shoppers. Merchants can promote their products directly through their TikTok accounts, with products recommended to users via live streams and a showcase section on seller profile pages.
Additionally, while Generation Z makes up the majority of TikTok users, other demographics are increasingly becoming users of the platform as well. A 2023 Statista report shows that Gen Z account for 33.32% of the TikTok user base in Singapore, followed by millennials (28.65%). Meanwhile, close to a fifth (18.19%) of TikTok users in Singapore are over the age of 32.
TikTok's advantage as a short video app also helps make it appear less pushy when it comes to displaying products that users can buy. A 2021 study by Nielsen showed that users find content on TikTok to be more authentic, genuine, unfiltered, and trend-setting than other platforms.
At the same time, looking specifically at advertising content, users still associated terms like authentic and genuine, while adding honest, real, unique, and fun. More than half (52 percent) of global TikTok users, excluding the United States, say they search for products or shop on the platform.
How does TikTok Shop fare against Shopee and Lazada?
While the social media e-commerce model has been wildly successful in Asia, TikTok Shop has failed to gain traction with Western consumers and content creators.
In particular, its live shopping feature, which allows users to buy products from sellers during a live stream, seems to be failing to resonate with Western consumers despite its huge popularity in Asia.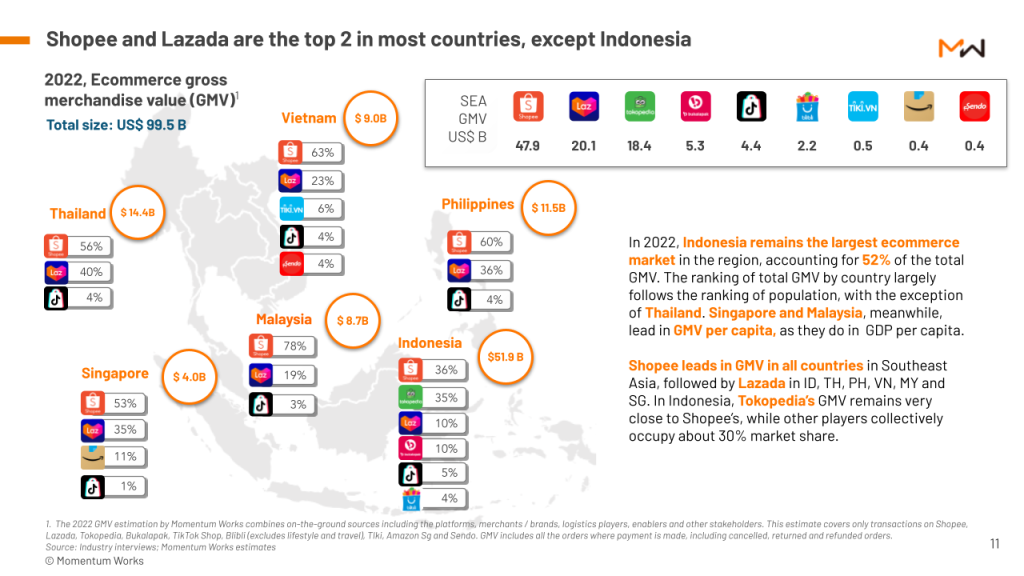 Also, the rapid growth of TikTok Shop has not yet kept up with its competitors. According to a 2023 report by Momentum Works, the GMV of e-commerce in the region was US$99.5 billion; of which TikTok Shop only accounted for US$4.4 billion. By comparison, competitors Shopee and Lazada had GMVs of US$47.9bn and US$20.1bn respectively.
TikTok Shop has yet to achieve a majority market share in any Southeast Asian country: it accounted for just one and three percent of GMV e-commerce in Singapore and Malaysia, respectively. The highest market share for the platform was recorded in Indonesia, albeit only five percent.
By comparison, Shopee and Lazada saw GMV of 53 percent and 35 percent in Singapore, respectively. In Malaysia, Shopee dominated the market, accounting for 78 percent of e-commerce GMV, followed by Lazada, which accounted for 19 percent.
Despite its current shortcomings, TikTok Shop remains a potential threat to competitors like Shopee and Lazada, at least in the Southeast Asian market.
Although the platform only held a small market share in the region, it was able to increase its estimated GMV in Southeast Asia from US$600 million in 2021, the year of its launch, to US$4.4 billion in 2022, the growth rate fastest among rivals. e-commerce platforms.
By comparison, Shopee's GMV a year after its launch in the region was $1.8bn, while Lazada's was just $384m. Despite possessing the second largest market share in the region, Lazada is also beginning to see a decline, as its estimated GMV fell from US$21 billion in 2021 to US$20.1 billion last year, according to the Momentum Works report.
Additionally, a survey by online retail insights company Cube Asia revealed that consumers who spend on TikTok Shop are reducing their spend on Shopee (51 percent), Lazada (45 percent) and offline (38 percent). ).
Also, eCommerce platforms like Shopee and Lazada charge more for commissions, transactions, and service fees. As such, merchants have to mark up their products to cover fees; this makes the products on TikTok Shop relatively cheaper than other platforms.
What's next for TikTok?
With over 250 million users in Southeast Asia, TikTok is in a pretty undisputed position to lead the social commerce market.
At the same time, as e-commerce continues to be a driving force for the platform, it is now looking to introduce Project S. As part of the project, TikTok will introduce a dedicated section called Trendy Beat, which will offer items that have been popular in videos, such as tools for removing earwax or brushing pet hair from clothing.
However, this will work similar to Amazon Basics, where TikTok's parent company ByteDance sells its own version of these trending products. With the launch of Trendy Beat, TikTok hopes to compete with established giants like Shein and Amazon.
Featured Image Credit: Shutterstock / World Trademark Review / Lazada
Also read: The fastest failure in history? Data Shows Threads Popularity Crashed In Just One Week