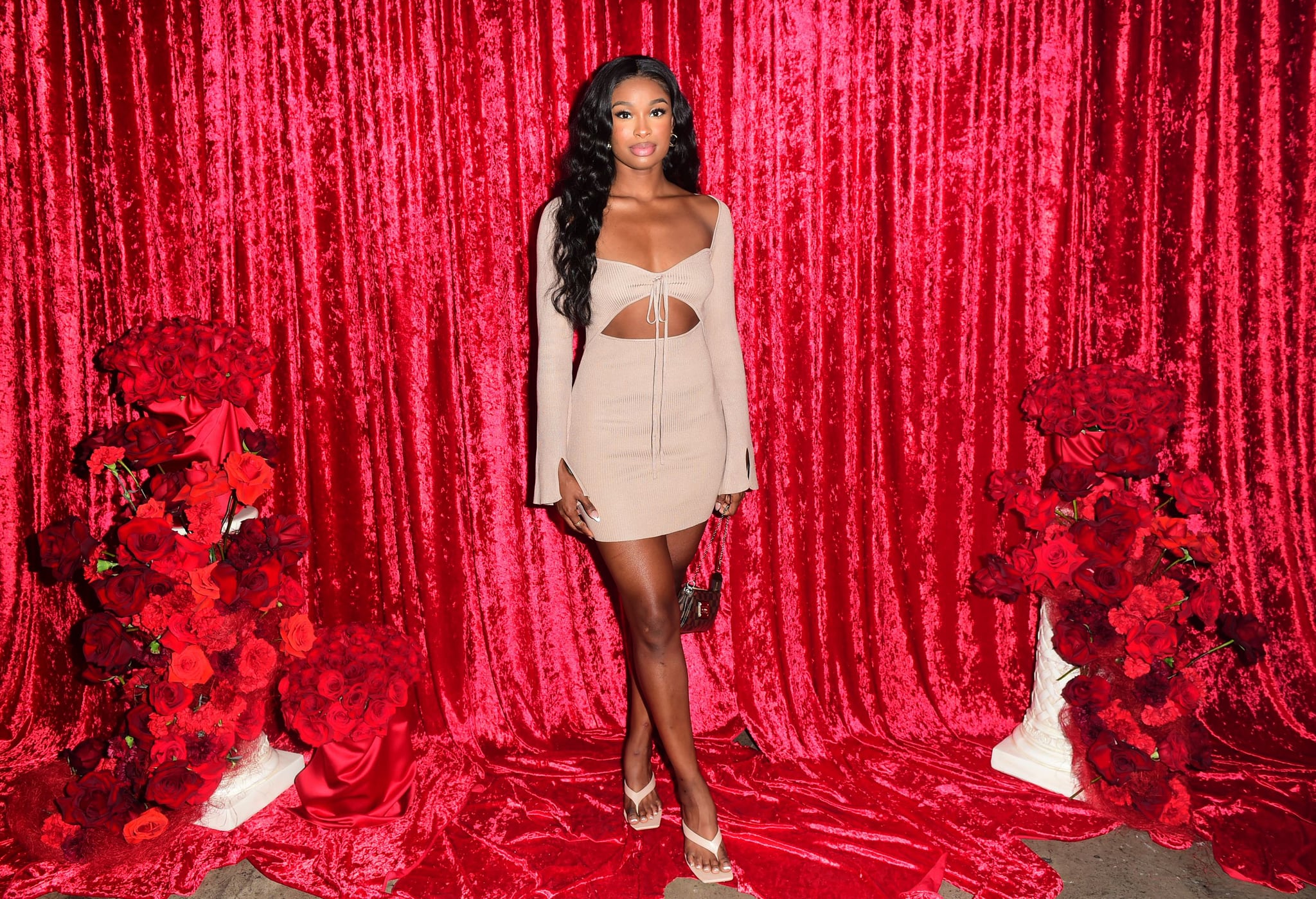 Image source: Getty / Vivien Killilea
Coco Jones knows that everything happens on her own timeline. Now an R&B star on an upward trajectory, Jones started her entertainment career off strong, landing a starring role in Disney's "Let It Shine" at the age of 14. She seemed headed straight for music stardom, but her efforts to launch her own music career fell flat when her label tried to pigeonhole her. She then she was dropped. Jones soon found herself wondering about her place in the world.
"I moved to Los Angeles at 17. I think I was trying to cool down with partying, so I hung out with my girls a lot," he tells POPSUGAR. "We were all a bit young and confused, so I didn't feel like it was just me."
Still, she was struggling. At the time, losing her record deal seemed like a failure, but in retrospect, the freedom of those years gave her valuable opportunities to experiment and grow. "She was working with up-and-coming producers, other guys who were also trying to make it. We would be very creative and have no time limits… We were really growing," she says. She also volunteered at a homeless shelter, trying to keep everything in perspective and working on her sound alone.
"I remember the first time during that period of confusion that I cursed at a song," he laughs. "And I was like, so scared. I was like, oh my gosh, am I really from Disney? Why am I so scared that I did this?"
Success in the conventional sense didn't come around again until she started posting to TikTok during the pandemic. It quickly went viral, garnering the attention of record labels, and the rest is history. But in his own way, those uncertain years were his own kind of success, Jones acknowledges, allowing him to build a foundation that allows him to create his career on his own terms.
"I used to see the old days of Disney as, why did I experience such a spike at such a young age, and now it's fleeting and gone?" she says. "But now I look at it as preparation. All this momentum and all the things I'm balancing – filming and music, press, touring, studying and everything – are renaissance sensations. It's déjà vu. I feel like I learned to balance it all as a child, and now I can do it again as a woman, fully myself. And I'm so grateful."
Jones certainly has a lot going on. She plays Hilary Banks on Peacock's "Bel-Air," and her major-label debut EP, "What I Didn't Tell You," has been a smash hit, with its track "ICU" debuting at No. 1 on Billboard's mainstream R&B/Hip-Hop charts. On July 14, Jones built on the momentum by releasing a remix of the single featuring none other than Justin Timberlake.
Time and experience, as well as some therapy, have given Jones a lot of wisdom about more than just his career. She's learned a lot about love over the years, for one thing. "My confidence went up and down for sure," she recalls of her twenties. One breakup, in particular, shook his self-esteem and taught him more than one lesson, including the importance of putting the past in the past.
"I had to get rid of those memories, I'm not looking at your page anymore," she says. The experience also helped shape the advice she gives anyone who regrets the end of a relationship: Be sure to consider the big picture rather than looking at it through rose-colored glasses. "Write down the good and the bad of that relationship. You can appreciate the good in it, but don't idealize what it was. There's a reason you guys didn't work out," she says. When things are over, she advises, "allow yourself to feel upset, but don't stay there. Don't drag your friends into the tornado of complaints. Pain will be pain. So feel it, but don't repeat it."
However, at the time of the breakup, she was hard on herself. "I think when my first boyfriend and I broke up, I felt very depressed and lacking in confidence, because I associated the failure of my relationship with my worth," she says. "I'm like, okay, maybe I was the problem. But when you break up with someone, it's really because the two of you aren't compatible. It's not just one person."
She is applying similar wisdom to her relationship with her parents, who she says are growing apart. Through therapy and reflection, Jones says, she has focused on learning to "look at each parent, not for what's happened in their relationship, but for how I've been in my relationship with them. I think it's really important not to get pulled anywhere. There are no sides." Her parents taught her to work hard, she says, her mom is a session vocalist and her dad is an NFL player, and she's very close to them, and she's had to remind herself that their split won't change that.
As for how she stays so grounded in herself today, Jones also has some valuable advice. In addition to exercise, she says, she uses affirmations to get stronger. "I get a lot of confidence from self-affirmations. I have this app called I Am, and I love the daily reminders to think well of myself," she explains. "I really feel like it changes my view of myself. I try to do that every day."
Sometimes, even if you don't fully believe in yourself, she adds, you just have to fake it until you make it, a strategy also known as the law of assumption or "lucky girl syndrome," depending on which circle you're in. "But I think sometimes I just had to be a little delirious. Like, I'm just going to pretend I'm not thinking about how these other girls look compared to me. Because if you walk in the room and you're not confident, then they might as well tell. So I had to accept it until it was really mine."
Jones communicated a similar message on her heartfelt 2019 single, "Depressed," which is about social media and the comparison game it often unleashes. "We end up comparing ourselves and going through these black holes of immersing ourselves in someone else's life, when that's just a part of people's lives. It's just the highlight reel," she says. "I was really telling the story in that song to remind people that life isn't all glitter and gold. Comparing your life to someone's highlight reel will only hurt you."
Instead, Jones says, he prefers to focus on gratitude and its connection to spirituality, which inform his approach to life and his music. "I grew up in the gospel, and I feel like a lot of my emotions come from the spirit," she says. "I feel like my heart and my spirit are the same. God is in my heart, and the journey from where I've been is also in my heart. So I sing from that place of thanks."
Jones is clearly very generous with her wisdom, which is also on purpose. "I see these interviews as stamps in history, and one day people will look at them to learn more about my journey," she says. "So I try to be intentional with what I say."
So what stamp on the story does Jones want to leave readers? "I think I'm excited," she says. "I want to look back one day at all of this and really feel like I didn't hold back." Ultimately, Jones wants people to remember that past failures are meaningless and that every moment is a new opportunity to be the architect of your own life. "At the end of the day, I am solely responsible for how my life unfolds," she says. "So I want to dream big, and I want everyone who will listen to look at my journey and see that I didn't give up, and see how big I dreamed, and dream big for you too. Shoot for the moon, at least you'll reach for a couple of stars."
It certainly looks like Jones is on her way to the stratosphere. The third season of "Bel-Air" may be delayed due to the writers' and actors' strike, but it's coming up, as is a tour and her first full-length album on a major label. Jones says her EP was meant to be an introduction to the real Coco Jones: "I think that's why it's called 'What I Didn't Tell You'." You've seen me as these characters, but what you don't know is that I'm just like you," she says about that project, but with her album, she's ready for the next step.
"I have more confidence," she says. "I feel like the EP was like, 'I'm a freshman in high school and I just got into this music industry. Do you guys like it or not?' And now with my album, I'm more like, 'I know how this high school works. I've been around. Let me show you the movement.'"