An artwork that took first place in a Colorado State Fair competition saw a backlash this week after the winning artist revealed it was generated by artificial intelligence.
Jason Allen, president of gaming company Incarnate Games, and his AI-created presentation received the top prize in the event's digital art category on Monday. vice reports.
The piece, titled "Theatre D'Opera Spatial", inspired heated debate online about the use of such techniques.
"This is so big" wrote a Twitter user. "I can see how ai art can be beneficial, but claiming to be an artist by generating one? Absolutely not."
"I knew 90% of artists were cooked when I saw how creative and amazing some of those AI art pieces were." another tweeted. "The sad truth is that AI will be better and faster than humans at a lot of mental tasks and you should be planning how to adapt to that now."
Allen said he had sifted through hundreds of images he made with the Midjourney artificial intelligence program before entering his three favourites, including the eventual winner, into the competition.
The artist told the local newspaper that he revealed that he had used Midjourney, which is a platform that can generate AI artwork.
"Being able to see my imagination unfold on the screen in front of me is fascinating. It's actually addictive," he told the outlet.
He said he did not expect the piece to receive viral attention and liked concerns about AI in the face of past fears that cameras would replace portraitists.
"As time went on, people started to accept the technology and finally realized there was room for both," the artist told The Gazette.
Allen did not immediately respond to HuffPost's request for comment.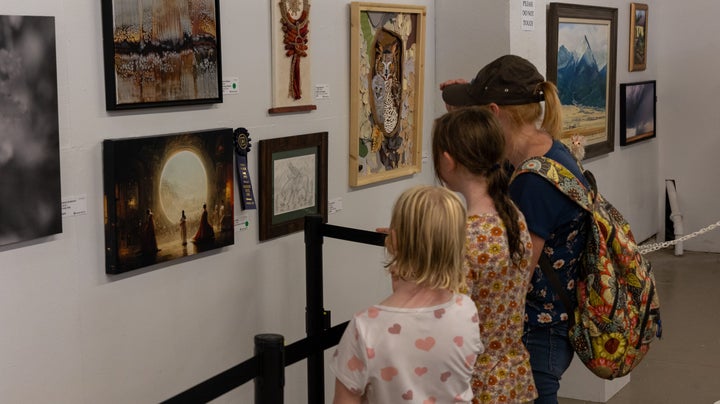 Olga Robak, director of communications for the Colorado Department of Agriculture, told HuffPost that the 150-year-old fair is thrilled to be "part of the discussion" about what constitutes art.
"We evolve every year," Robak said. "We review the competition requirements every year, so this is likely to lead to an internal discussion about whether this should have its own category, how it should be categorized, and how people should label and judge this new type of art using new technology".
CLARIFICATION: This article has been updated to add that Allen told The Pueblo Chieftain that he revealed his art was generated with Midjourney, an AI program. An earlier version said that Allen told the newspaper that he disclosed his use of AI.