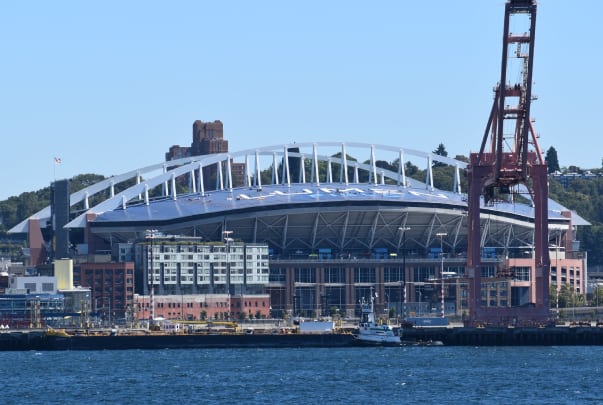 Lumen Field (photo by The West End, via Flickr).
Our all-too-early predictions for who comes out of the competitive fire in training camp this year.
The Seattle Seahawks have done it again! That's the cautiously optimistic sentiment around Seattle when examining the teambuilding efforts of Pete Carroll and John Schneider this offseason. From an influx of hungry young draft picks (largely catalyzed by the Russell Wilson trade) to the rapid turnover of the old roster. Bobby Wagner is the only remaining member of the previous Super Bowl winning team!
However, the most significant feeling of déjà vu (excuse my French) comes in the form of a highly anticipated and hotly contested competition for snapshots in this new era of Seattle Seahawks Football. Who are the real dogs that don't care what analysts say about the 'big bad' Niners? Who can help Seattle ascend to the NFC West throne once again? Dare we hope that history repeats itself? That may be for another article entirely, but we can at least get an early look at who could win some of the starting spots that are up in the air for the 2023 NFL season, before the pads are even put on the field. Virginia Mason Athletic Center. in Renton, WA later this month.
Running back Kenneth Walker III v. Zach Charbonnet (2nd round rookie).
Is it necessary to indicate this? Kenneth Walker III is our starter and a rising star in this league. He had over 1,000 rushing yards and 9 TDs in just 11 starts (after Rashaad Penny's injury). 12s knows he should have won OROY. Let's remember that Penny started and got most of the snaps last year before going down, so it won't be 50/50. Zach Charbonnet is an exciting player to add to bolster the ground game and provide a power element as a switch up; he'll have to take what he can behind the explosive sophomore who was debated as the best running back in his draft class (between himself and Breece Hall).
Predicted Winner: Walker
Right guard: Phil Haynes v. Anthony Bradford (4th round rookie)
He The Seattle Seahawks may have drafted a long-term answer in OG, but Haynes has experience as a starting semi rotating in a platoon with Gabe Jackson last year. These two players have a lot of similarities, with both choices being fourth-round picks in their respective NFL Drafts, but Haynes is entering his fifth year in the league. Last year was the first time Haynes had played in more than 6 games in a season, as he struggled with injuries his first two years (between appearances on the Injured Reserve and Physically Unable to Perform lists), then was a reserve on the '21 before division of duties in '22.
Big Phil was an asset in the running game (the team averaged 120 rushing yards in his 2 starts at RG and 1 at LG, for an injured Damien Lewis), but seemed to be a problem at times in the pro passing game. Let's see how he fares after marinating in this system for a while and finally landing a full-time role. In the event that a rookie wins the center spot (more on that below), it may be wiser to maintain continuity early on to get as much help and stability as possible for that player. If Haynes stumbles, the powerful Anthony Bradford will have a chance at him. Bradford can also be an emergency OT, so he has value and flexibility here..
Predicted Winner: Haynes
Page 2: Turning to defense