Oh no, this is not good for Australia, Nathan Lyon has come back with a limp after chasing a ball in the outfield.
Australia's sole wicket-taker today appears to have strained his right calf and can barely walk.
Finally, a trainer helped him off the ground and he looks absolutely dejected.
"He's struggling here. Whether he's got cramps or a pinched calf," says former England captain Nasser Hussain in the comments.
"Remember, 100 consecutive Test matches, the first bowler to do that. This is not looking good."
"This could be a great moment in the Test Match, in the series. He is an important man in this attack. He is fundamental in this attack."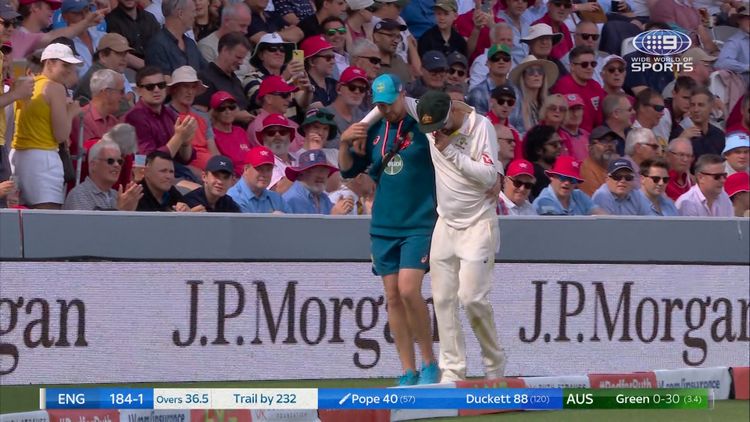 "He's in pain. It doesn't feel like a cramp," adds England great teammate Andrew Strauss.
"With a cramp, you're looking to stretch that muscle. He looks like he's struggling a lot. That's not a good sight if you're an Australian fan."
"You can see he's walking almost on the side of his foot there, so it looks like a major calf injury to me.
"It's really hard to watch. It really is a horrible sight. You can tell by the look on his face, the enormity of it is really settling in for him there. Horrible scenes."
"Having gotten a couple of pops in my calf, and it's pops because the muscle feels like it's popping, that's a problem," says Kevin Pietersen.
"Just the way he was walking there, it definitely wasn't a cramp. He was walking on the side of his foot and trying to protect that calf."
"That's the series if it's a pop for Nathan Lyon."