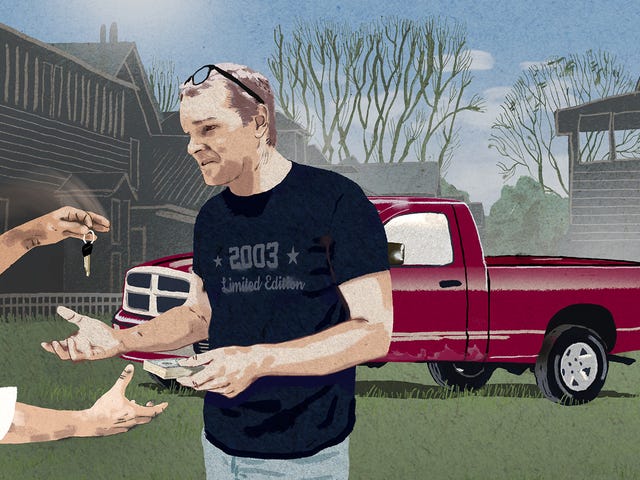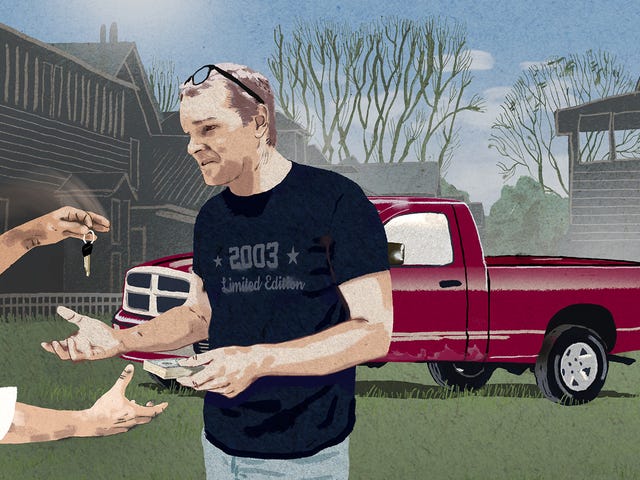 Illustration by Derek BaconCar and driver
From the November 2021 issue of Car and driver.
I always thought my midlife crisis would involve an IROC. Or maybe a Saab 9000 Turbo, or a two-door Jeep Cherokee – the most beautiful cars of my formative years driving. But as it turns out, buried deep in my psyche is the need to revisit one of the least charismatic machines of my teenage life, the winter hitter that rejected you: the Big Dodge Ram.
The BDR was my dad's truck, but I drove it in the winter. Which, in Maine, usually meant. It was a '87, two-wheel drive, with a weak 95hp Slant-Six and a four-speed. After the engine seized on my way to school, I asked the dealer if the warranty would cover an upgrade to a V-8. That was a no, probably because it would have caused everyone with a Slant-Six and a 7/70 warranty to fill their crankcase with Mr. Pibb in a quest to get a 318.
So what did I just buy? A ram, of course – a 2003 regular cab short bed with manual gearbox. It has three seats, just like a McLaren F1. It's also four-wheel drive with a 4.7-liter V-8. You might think, "I didn't know they made them like this." Neither did I, until I saw the Craigslist ad. it's like a Aries SRT-10 with four-wheel drive and half the power. Okay, less than half the power. But it has throttle-by-wire and pyrotechnic seat belt pretensioners, which I know because I'm now a third-generation Ram fanatic. A hydroformed frame? Watch yourself embrace the future, the DaimlerChrysler of the early 2000s.
When I showed up at the seller's house, he told me that he bought it from a friend of his, who was the original owner and had to order it, because no merchant would voluntarily stock such a thing. The clear coat is peeling off, the stereo is off, and the heating and air conditioning only work with the fan on top. That's right: it has air conditioning! And a vinyl floor. And cruise control. And windows and manual locks. Just a quirky specification, this thing. I asked if the cruise control worked. "I don't know," the owner said. "I've never tried it." He also pointed out that it is possible to push-start it if you engage the clutch in second gear. I didn't ask him how he knew the second was best for that. I just handed over the money and drove home to Big Dodge Ram Part 2. Cruise control worked.
A few days later, I replaced a new head unit and turned on the stereo. A few days later, I connected a powered subwoofer. I searched for all the performance tweaks for the 4.7 V-8 which didn't take long as there aren't any. However, like its 1987 ancestor, the Aries has a surprisingly nice ride. Or, should I say, unsurprising, given its nimble 8.5 inches of suspension travel. I told you, I'm going crazy. Did you know that at 207.7 inches, a 2003 Ram regular cab with the short bed is actually 4.6 inches shorter than a current? Toyota Tacoma double cabin? Hey, come back here.
I have had the Ram for about a week and love it. My kids learned how to roll down a window using arm strength, and my wife learned the etiquette of a truck seat – I told her she has to ride in the middle or people will think we're fighting. He replied that if he has to ride in the middle, that is a self-fulfilling prophecy.
And I realized that somehow I had never owned a pickup truck. Folks, I understand what this is about. You can just throw things in the bed, even if those are dirty. Hell, the stuff can be real dirt! Friends tell me I need a decal of Calvin peeing on a Chevy logo, but I don't understand what a 16th century theologian has to do with domestic truck rivalries or even where you would order such a thing.
I have long argued that a car in midlife crisis should be an improvement on the feeling you are trying to recover, an upgrade rather than a clone. And I was right. Now, whenever I want, I can go out, turn the key and claim that the old Big Dodge Ram was a lot of fun. But it would have been much nicer with a V-8.
This content is created and maintained by a third party and imported on this page to help users provide their email addresses. You may be able to find more information on this and similar content on piano.io