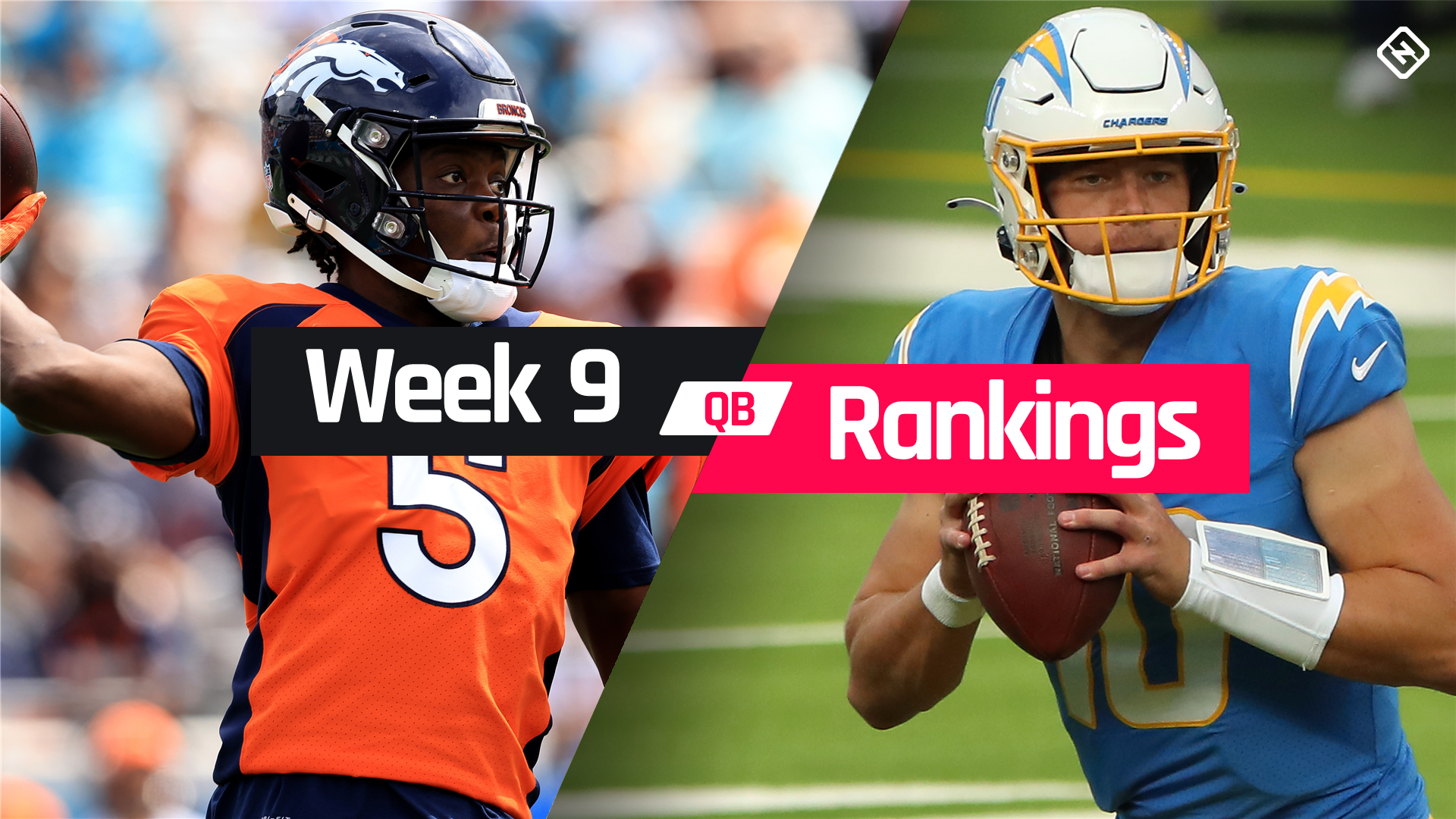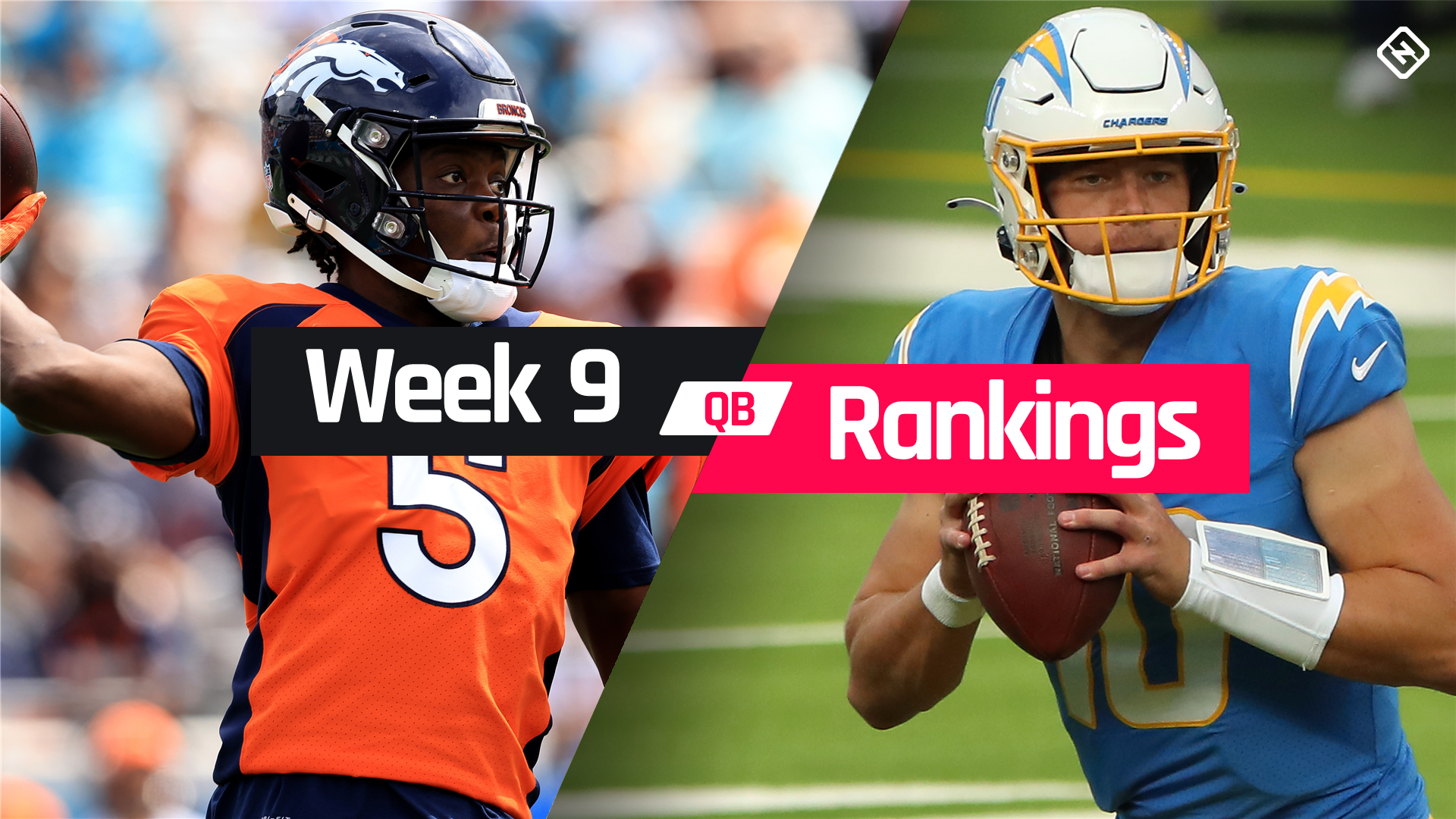 Week 9 marks the halfway point of the NFL regular season (and past the halfway point of the fantasy football regular season), so we have some strong matchup numbers to help inform our starting and sitting decisions. Must-see fantasy stallions like Joe Burrow (vs. Browns) and Jalen Hurts (vs. Chargers) have emerged, while some guys have fallen into simple matchup-based sleepers. Of course, there are still your classic matchup-based streamers that we expected to be just the one in pre-season. We're here to fix it all up with the help of our week 9 fantasy QB rankings.
Derek Carr (@ Eagles) and Lamar Jackson (vs. Vikings) are back in action after the goodbyes, but we sacrifice Tom Brady. Taylor Heinicke, Jared Goff and Geno Smith are also off the table, though only owners of two-QB / superflex alloys will likely notice they're missing. Even more important in two QB / superflex championships (and possibly a single QB) is the potential return of Tyrod Taylor (hamstring) out of the IR. He has a very favorable matchup against Miami, which puts him directly into the streamer's conversation.
RANKINGS WEEK 9 PPR:
Run back | Large receiver | Tight end | D / ST | Kicker
Tua Tagovailoa (vs. Texans), Carson Wentz (vs. Jets), Teddy Bridgewater (@ Cowboys), and Taysom Hill (vs. Falcons), assuming he was deleted from concussion protocol, join Taylor as the best options streaming. Tagovailoa and Wentz have shown they can do it when the matchup is right. The only problem for Wentz may be the lack of a competitive match against the Jets, but considering they have scored major upheavals against Tennessee and Cincinnati this year, we don't count them against Indy. Bridgewater has had its ups and downs, and Hill hasn't played much recently – and he hasn't played much at QB this year. However, we know the kind of high floor upside and double threat he has when he's below center, and against the Falcons, he's in good position for good overall numbers.
STANDARD RANKINGS WEEK 9:
Run back | Large receiver | Tight end | D / ST | Kicker
On the other hand, Matt Ryan (@ Saints), Ryan Tannehill (@ Rams), and Sam Darnold (vs. Patriots) have all produced in a few weeks, but defenses in New Orleans, Los Angeles and New England tend to close down starters of downward bangs. Tannehill has the exact opposite situation to a guy like Wentz, though. If this Titans-Rams game is a back-and-forth shootout, it surely could be successful. We only see better options on the board.
WEEK 9 DFS: The best stacks | The best values | Lineup builder
Hurts and Jackson think they are having tough encounters, as Los Angeles and Minnesota are the top 10 defensive units against the QBs. They take a slight jump in the rankings, but we know their activity on the pitch means their floor and ceiling stay high.
TRAININGS OF THE WEEK 9 DFS: FanDuel | DraftKings | Yahoo
Losing Brady sure hurts its owners, but there are plenty of pins that can help you get through the week. The quarterback stays deep, so find your week-long streamer, hope for some touchdowns, and ride Brady for the rest of the course after week 9.
WEEK 9 FANTASY: dormant | busts | Start them, sit down
Grade: We will be updating these QB rankings throughout the week, so check out the latest player movement and analysis.
Fantasy QB Leaderboards Week 9: Who to start as a quarterback
The rankings are based on standard, through four-point TD formats.
| | |
| --- | --- |
| Ranking | Player |
| 1 | Josh Allen, BUF @ JAX |
| 2 | Matthew Stafford, LAR v TEN |
| 3 | Kyler Murray, ARI @ SF |
| 4th | Joe Burrow, CIN v CLE |
| 5 | Dak Prescott, DAL vs. DEN |
| 6th | Patrick Mahomes, KC vs GB |
| 7th | Lamar Jackson, BAL v MIN |
| 8th | Jalen hurts, PHI vs LAC. Despite losing 38 points from Lions, Hurts produced his lowest fantasy production (11.2 fantasy points) of the season when he was just 103 yards past. However, we still saw a great example of its rushing floor. His 71 yards running prevented one of the most disastrous fictional performances in recent memory. It was a QB1 every two weeks this year, so don't think too much about it. Los Angeles has presented challenges for some QBs, but again, his fiery wit continues to make him a must to start. |
| 9 | Justin Herbert, LAC @ PHI. Herbert collided with the Patriots and passed just 223 yards and threw two interceptions. However, he still threw two touchdowns, and this is where the forced starts end. How it hurts, don't think about it too much. |
| 10 | Your Tagovailoa, MIA against HOU. Tagovailoa celebrated when the matchup is favorable against Atlanta (28.5 fantasy points) and Jacksonville (22.4), so we can expect the same against Houston. The Dolphins are unable to consistently beat the rock and Tagovailoa has been forced to more than 39 passes in each of the last three weeks. Miami is not a good enough team to assume this match will be a blast, so there are plenty of opportunities for Tua here. It ended up as No. 1 overall player in fantasy in week 7, so that's his lead this week. |
| 11 | Taysom Hill, NO against ATL. Jameis Winston is out for the year, so Hill should take the No. 1 QB role assuming that clears the concussion protocol. In four starts last year, he scored at least 18.5 fantasy points in each race. We know it leaves a lot to be desired as a passerby, but think of it as a lesser Jalen Hurts: its rushing floor and rise puts it in the range of a QB1. Atlanta gave up the third most fantasy points to straight QBs in week 8, so Hill is very attractive this week. It's worth noting that it should consider starting regardless of the matchup, though. |
| 12 ° | Kirk Cousins, MIN @ BAL. Cousins ​​battled Dallas in week 8, but we know it's hot and cold. Baltimore has given up a lot of fancy points to Carson Wentz, Derek Carr, Patrick Mahomes, and Joe Burrow. When the Minnesota passing game is underway, it rivals those passing attacks. We assume Baltimore will score easily after a bye, so expect Captain Kirk to attempt a flurry of passes to keep up. |
| 13 | Teddy Bridgewater, DEN @ DAL. Dallas plays a minor role in playmaking, but still gives up many yards and touchdowns. Sam Darnold, Tom Brady, Jalen Hurts and Justin Herbert have all gone more than 300 yards against the Cowboys, and assuming Dak Prescott (calf) is back, Bridgewater will have to attempt plenty of passes to keep up. or driven by garbage, Bridgewater should get its fair share of fantasy points, especially when Jerry Jeudy gets back in shape. |
| 14 | Daniel Jones, NYG v LV. Las Vegas is statistically a solid side against the QBs, but playing against Justin Fields and Ben Roethlisberger really skewed their stats. Justin Herbert, Jacoby Brissett, Teddy Bridgewater and Jalen Hurts scored over 20 fantasy points against the Raiders. It looks like Daniel Jones's weapons are finally coming back to health (fingers crossed), so we like his possibilities in this game. He's another guy who should go through a lot in the face of a solid attack. |
| 15 ° | Matt Ryan, ATL @ NO. New Orleans is statistically strong even against fantasy QBs, but the likes of Geno Smith, Sam Darnold, Mac Jones and Taylor Heinicke have played. That said, Daniel Jones passed for 400 yards and Tom Brady for 375 yards against them. The front seven of the Saints are sturdy, but their secondary leaves a lot to be desired. We'll see how Kyle Pitts, Russell Gage, Cordarrelle Patterson and Tajae Sharpe step up in the absence of Calvin Ridley (personal), but this match doesn't scare us away from Ryan. |
| 16 | Ryan Tannehill, TEN @ LAR. Tannehill scored three touchdowns against Indianapolis en route to a QB1 finish. However, the Rams gave the quarterback the tenth-fewest number of fancy points per game, and much of the success against them has been in garbage time. With Derrick Henry (foot) expected to be out for a long time, you have to think that Tennessee will see less loaded boxes and their action game will suffer as a result. Even if Henry were healthy, this would be a troubling comparison. Add in the fact that he's out, and there's a strong enough case for Tannehill to sit on the bench. That said, he may start to attempt a lot more steps, so this could be a blessing in disguise, at least in the fantasy that goes on. |
| 17 ° | Carson Wentz, IND v NYJ |
| 18 ° | Jordan Love, GB @ KC |
| 19 ° | Tyrod Taylor, HOU @ MIA |
| 20 | Derek Carr, LV @ NYG |
| 21 | Sam Darnold, AUTO versus NE |
| 22 | Baker Mayfield, CLE @ CIN |
| 23 | Ben Roethlisberger, PIT versus CHI |
| 24 | Mac Jones, NE @ AUTO |
| 25 | Jimmy Garoppolo, SF vs. ARI |
| 26 | Justin Fields, CHI @ PIT |
| 27 | Mike White, NYJ @ IND |
| 28 | Trevor Lawrence, JAX vs. BUF |