A firefighter has died in France after responding to a fire in an underground car park, the interior minister has said.
Gerald Darmanin said the 24-year-old died in Saint-Denis, in the northern suburbs of Paris, despite the efforts of his colleagues.
"All my sincere and saddened condolences to his family, loved ones, comrades and the BSPP (Paris Fire Department)," he said.
But the BSPP has yet to link the death to the ongoing unrest. The fire brigade told Le Parisien: "We intervene every week, throughout the year, in a dozen fires of this type. We must not confuse concomitance and causality."
It comes after nearly a week of violence in France following the fatal police shooting of nahel merzouk17, who died during a traffic stop.
The teenager was buried on Saturday.
More than 3,000 people have been detained in the riots which have also involved violence and looting.
Overnight, more than 150 people were detained, while at least three of the 45,000 police officers deployed were injured.
This marks a significant decrease in arrests overnight, up from 700 on Saturday and more than 1,300 on Friday.
There were also 352 urban fires and 297 reports of burned vehicles on Sunday night.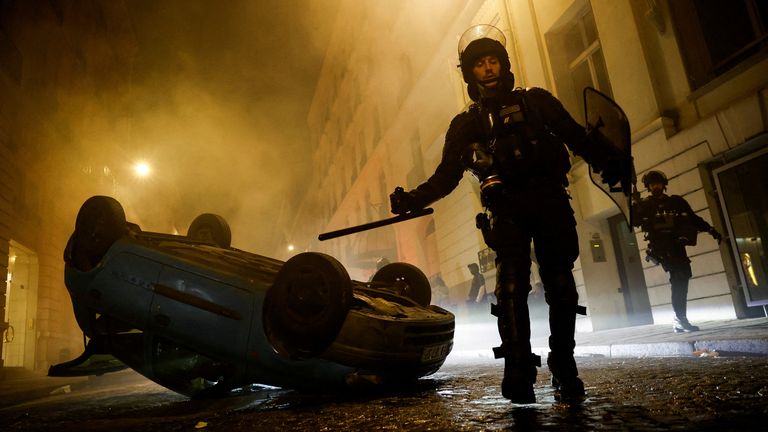 Cities across France have now seen six nights of violent riots as the government of French President Emmanuel Macron tries to regain control of the situation, just months after widespread protests over unpopular pension reforms and a year before the celebration. of the Summer Olympics.
Meanwhile, that of Nahel Merzouk Grandma has urged the rioters to stop violence that has seen cars set on fire, shops looted and city halls and other buildings attacked, including the home of the mayor of a Paris suburb who was attacked while his wife and children slept inside on Saturday.
Read more:
Why are people protesting in France?
Emmanuel Macron suspends state visit to Germany amid ongoing protests
Violence and looting subside in Nanterre and Paris, but there is an uneasy calm
Macron held a special security meeting on Sunday night and plans to meet the heads of both houses of parliament and the mayors of 220 towns and cities affected by the protests over the next two days.
He wants to start a longer-term, detailed assessment of the reasons that led to the riots, a French official said.
The president also delayed what would have been the first state visit to Germany by a French president in 23 years, which was scheduled to begin on Sunday evening.