deceased model and actress ann nicole smith she is remembered 16 years later for her tragic death too soon.
previous Playboy Playmate, who was an easy target for cruel tabloids in the '90s because of her intense parties and unlikely romances, died in 2007 at the age of 39.
Smith was recently immortalized in an explosive documentary about her early life and downward spiral, but one fascinating fact of her brief but memorable time on earth was her brief marriage to billionaire J. Howard Marshall.
In 1994, at the age of 26, Smith married wealthy oil magnate Marshall. At the time he was 89 years old, a whopping 63 years her senior.
READ MORE: How a 25-second cameo launched Courteney Cox's career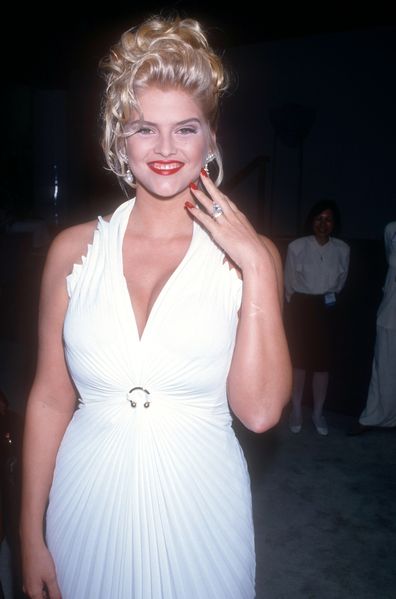 READ MORE: It took three divorces and 17 years for Goldie Hawn and Kurt Russell's love story to finally begin.
Their union was met with surprise, raised eyebrows, and, of course, the general suspicion that she was only in it for the money.
Pop culture fans won't soon forget the photo of Smith, clad in a veil and holding a bouquet of flowers, standing at the altar next to her wheelchair-bound new husband.
This marked the second time Smith had walked down the aisle, after marrying her first husband, Billy Wayne Smith, in 1985.
Her journey to marry Marshall was plagued with controversy. The couple first met in 1988 when she was working as a dancer at a Texas club while he was still married to his second wife, Bettye Bohannon.
After their paths crossed a second time in the early 1990s, Marshall immediately began lavishing gifts and money on Smith, according to People.
Reports also claim that the billionaire popped the question just months after their first date in 1991.
Smith didn't actually accept the proposal until three years later, when she had earned her status as a rich and famous celebrity in her own right.
READ MORE: How Liv Tyler found out the Aerosmith frontman was her real father
At the time, Smith had appeared in films including Naked Gun 33 1/3 and won major modeling contracts for brands like Guess.
Pat Walker, owner of the wedding chapel where Smith and Marshall were married, said the actress was adamant she wouldn't marry for money.
She revealed to the Texas Monthly that Smith told her, "I won't marry him for his money. He's been begging me to marry him for over four years. But first I wanted to start my own career, I have my own money."
While Smith was intent on carving out his own career, Marshall still spent millions on his future wife.
According to the Texan publication, the actress once spent a staggering $2 million (approximately $3.04 million) on her credit card during a single shopping spree.
The couple's infamous nuptials took place on June 27, 1994 in a small chapel in Houston.
It was a low-key affair, with Smith's loved ones apparently choosing the location in an attempt to avoid paparazzi and media attention.
The bride and groom did not even spend their wedding night together. Smith flew to Greece that same night.
READ MORE: The story behind Jane Fonda's infamous 1970 mugshot
According New York MagazineSmith sealed their union with a kiss and said she had to leave town for a photo shoot.
The newlyweds did not spend much time together as husband and wife after their marriage.
And not long after their wedding, Marshall's son Pierce received power of attorney, and the elderly billionaire's health began to fail.
On August 4, 1995, just 14 months after their wedding, Marshall died of pneumonia at the age of 90.
Smith's dramatic white outfit, complete with a veil, worn at her memorial was a grim reminder of her brief and ill-fated marriage.
Marshall sensationally did not name his wife of only one year in his will, instead leaving his $1.6 billion (approximately $2.3 billion) to his son Pierce.
The young widow, then just 27, fought for half of the late oil magnate's estate in court but lost in 1997.
READ MORE: Winona Ryder's scandalous photo session after being arrested in 2001
Eventually, he won $88 million (approximately $131 million) after claiming that Pierce had conspired for decades to be the sole name in the will.
Smith, to everyone's surprise, never remarried. Her family members later insisted that she genuinely loved her late husband.
Larry Birkhead, the father of Smith's daughter, Dannielynn, told the wendy williams show in 2017, every man Smith dated would be compared to the billionaire.
"The thing is, you had to live up to this guy," he explained. "You'd roll over in bed and there's an oil painting of him on one side. You'll roll over to the other side and there's a picture of him on the dresser."
Smith died in February 2007 after an accidental drug overdose. She left behind a daughter, Dannielynn, who is now 16 years old. Her first child, Daniel Wayne Smith, sadly died a year before her mother in 2006.
For a daily dose of 9Honey, Subscribe to our newsletter here.
If you or someone you know needs support for mental health issues, please contact Lifeline on 13 11 14 or the Alcohol and drug support line at 1800 198 024.
Kate Moss invokes nostalgia with recreation of a TV commercial