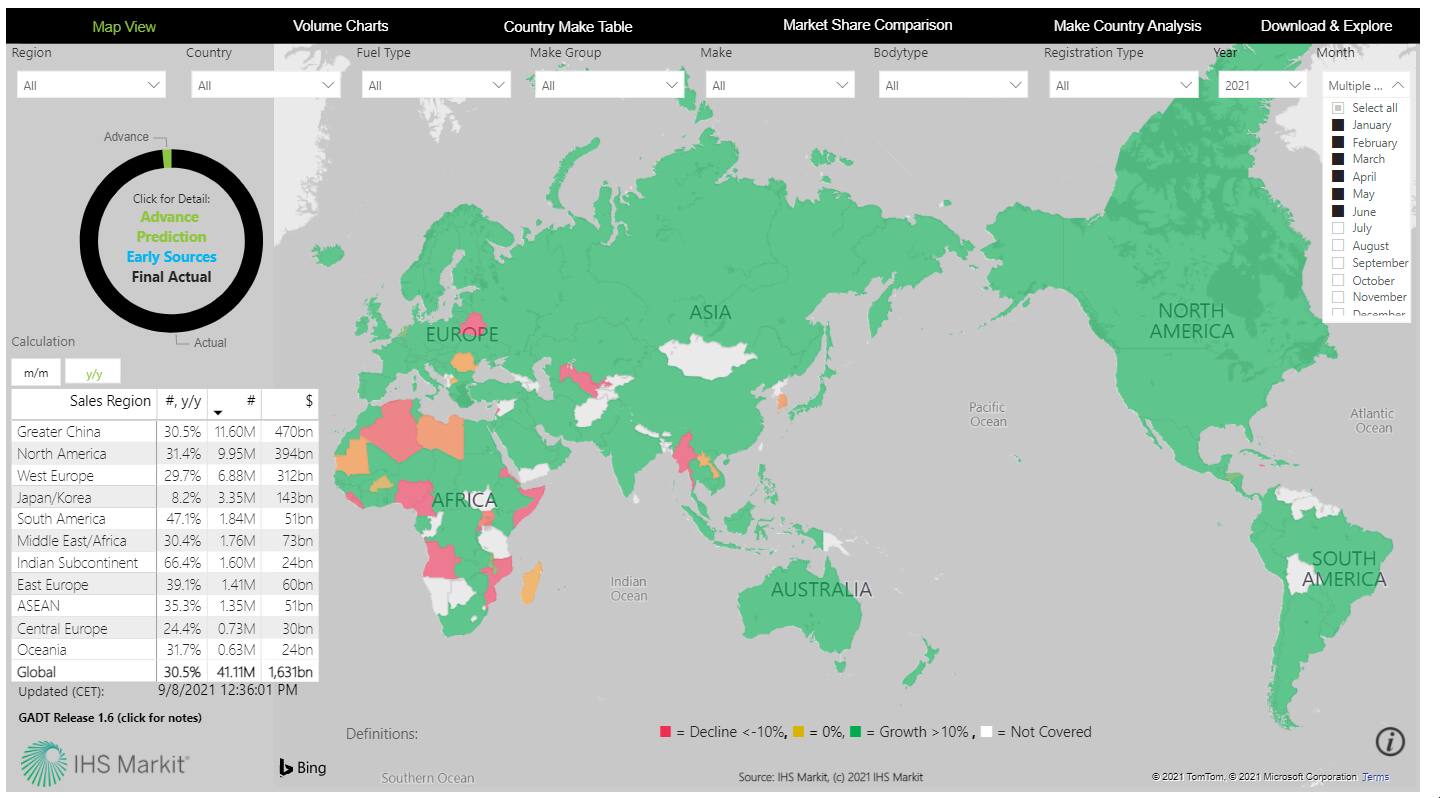 Monthly newsletter and automotive podcast
This month's theme: A rocky recovery in the second year of the pandemic
The February 2021 edition of the monthly newsletter looked at vehicle sales in the year 2020, the first year of the pandemic. With the 2021-H1 results on the way, it's time to revisit the pace of recovery and current electrification trends during this second pandemic year.
Looking at the heat map of the Global Auto Demand Tracker, sales volume is mostly 'green', indicating a recovery from the pandemic: Greater China first-half (H1) 2021 sales increased 31% year-over-year, North America increased by 31%, Western Europe up by 30%.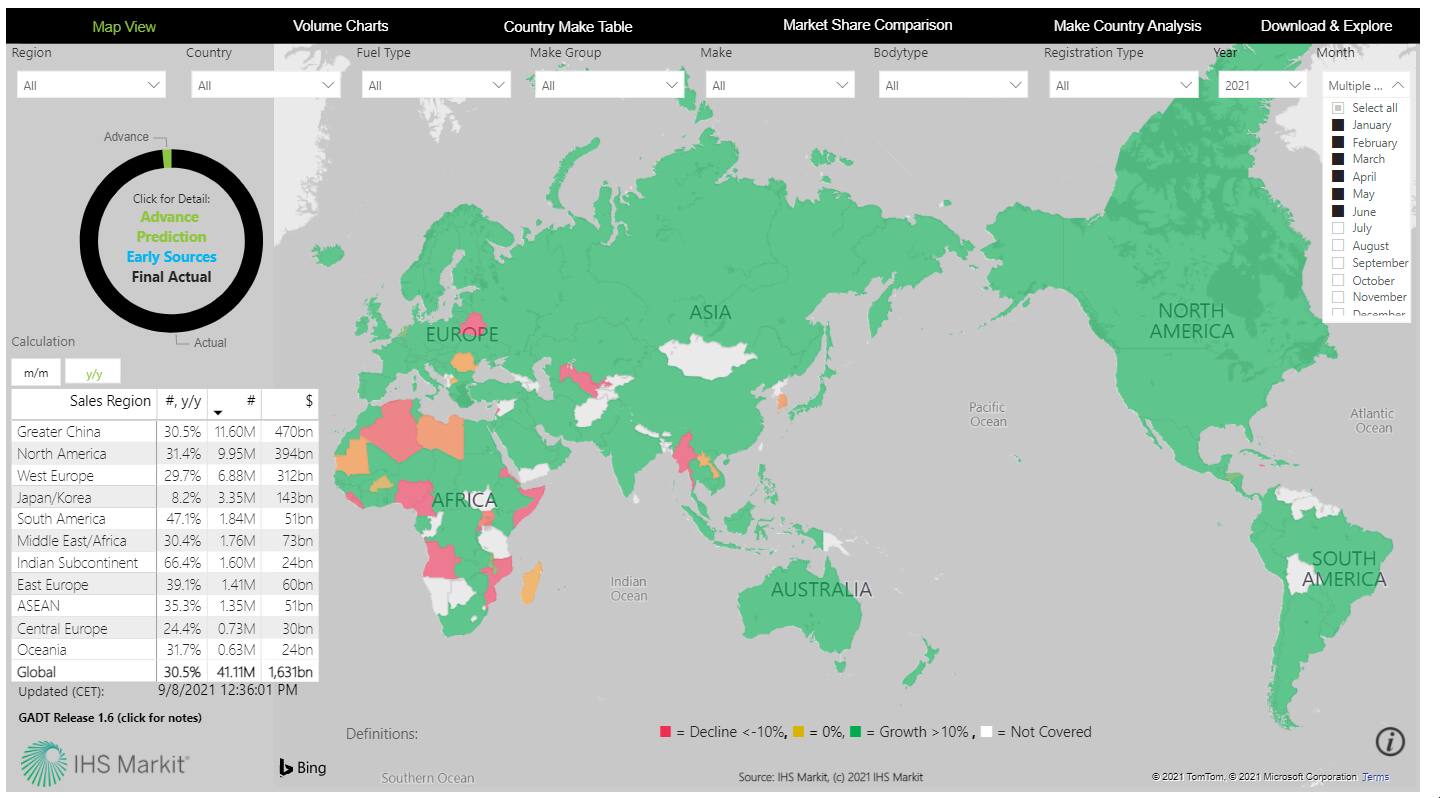 Source: IHS Markit, © 2021 IHS Markit
However, some obstacles remain on the road to recovery: in the first half of 2021, the recovery could have been more pronounced had it not been for the supply-side shocks resulting from the shortage of chips and raw materials. During the first half of the year, producers' revenues and profitability improved compared to the previous year, as the red arrows in the graph indicate: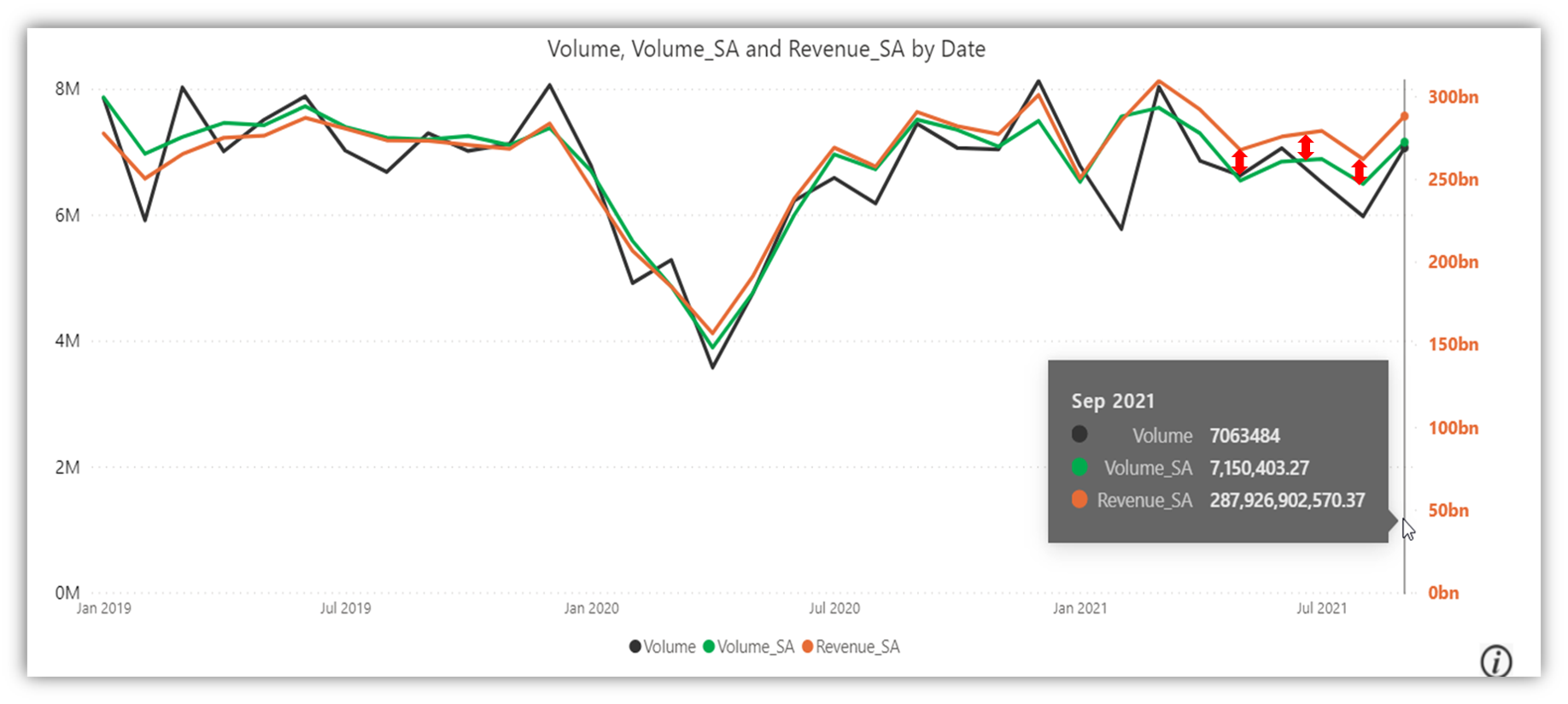 Source: IHS Markit, © 2021 IHS Markit
OEMs such as Daimler, BMW and Audi confirm this observation in their latest quarterly earnings reports: revenue growth was "supported by higher sales, as well as a positive mix and price effects" (Audi H1-2021 earnings). In other words: Given the shortage of products, vehicle manufacturers are prioritizing orders for high-margin vehicles and dealers are reducing discounts. Typically, used vehicles would be considered a viable alternative, particularly in the 0-1 year age group. But the lack of availability of new products has already negatively impacted that particular age group in numerous countries such as the United States and the European Big 5 (France, Germany, Spain, United Kingdom and Italy). Suppliers, on the other hand, are concerned about inflation and their inability to pass on rising commodity prices, leading to a squeeze of profit margins.
Proliferation of battery-only electric brands
Currently, there are around 30 brands focused on battery electric vehicles only. These include established brands like Tesla, challengers like NIO, Weltmeister Motors or XPeng Motors. Notably, none of the latter produced series vehicles until four years ago. Other brands are BEV subsidiaries of established manufacturers such as Great Wall ("Ora") or Geely ("Geometry"). The proliferation of electric-only brands will continue with Lucid and Rivian entering mass production soon. Other competitors like the tech company Xiaomi have yet to achieve that status.
Source: IHS Markit, © 2021 IHS Markit
To keep abreast of dynamic developments in the electric battery domain, Global Auto Demand Tracker allows you to track the sales success of a new market entry, geographic spread, etc. For example, in the first half of 2021, approximately 10% (H1-2020: 6.5%) of global vehicle sales can be considered electrified, i.e. equipped with hybrid, plug-in hybrid or battery-electric vehicles.
Inevitably, there will be the consolidation of BEV companies which is anything but a new phenomenon to the automotive industry: the consolidation dates back to the infancy of that industry itself. This time around, the disruption of historic automakers may indeed be tectonic, and a parallel can be drawn with the rise of low-cost airlines in the 1990s / early 2000s, when a group of airline start-ups started to operate. Following a wave of consolidation, the remaining disrupters were thriving and continue to consume the profits of historic airlines.
Dive deeper
Access new global car registrations – start your free trial
Brand loyalty among US auto consumers has dropped to a 6-year low. Find out more.
Register Now: October 5 Webinar | Electric Vehicle Charging Deserts – Where Should We Build Oases?
Proposal published by the US EPA to review greenhouse gas emissions. Find out more.
Sign up for our monthly Fuel for Thought newsletter and podcast to stay in touch with the latest automotive insights