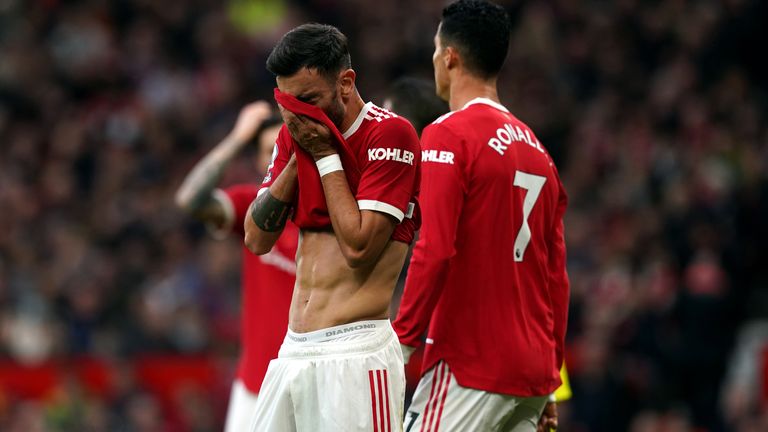 No one expected Manchester United to drop to such a low level this quickly this season, and no one at the club would have planned that, says Gary Neville.
United suffered their fourth of six Premier League defeats by losing 2-0 at home to Manchester City, with an own goal from Eric Bailly early and a completely avoidable goal from Bernardo Silva just before half-time.
After a relatively stable week – United beat Spurs 3-0 and drew 2-2 at the last minute with Atalanta – he returned to stasis with just one shot on goal and four touches in the City area.
The pressure has been taken on manager Ole Gunnar Solskjaer, and although Neville believes there is little chance of United making a change this season, he believes no one at the club would have planned such a downfall.
"Ole is under enormous pressure, but the first thing that has to happen is that he needs a team with courage," said Neville.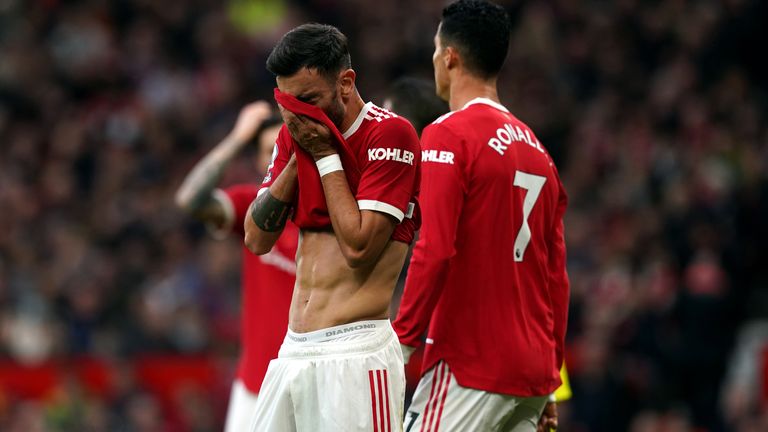 "Until the end of last season, the feeling here was that there was a progression because they finished second in the league. Everyone then thought they got their recruitment just in the summer.
So the club didn't plan this. I know there are some United fans who think the club should have acted two weeks ago because Antonio Conte was available but this club would never have named Conte and they are not prepared for this moment because they have the plan behind Ole.
FREE TO WATCH: Highlights of Manchester City's victory over Manchester United in the Premier League

"I don't think there is a possibility that there is a decision [on the manager] during this season unless it gets so bad and it gets to the point where it's so bad. They are 11 points off the top if Chelsea win today and this United team shouldn't be 11 points off the top. Nobody expected it. No one would have expected United to sink that low at this point in the season.
"I think he has a few weeks to fix it."
Keane slams the players: 'If your job depends on them, you're in trouble!'
Former Manchester United captain Roy Keane threw no punches after the performance, singling Luke Shaw, Harry Maguire, Eric Bailly, Fred and Aaron Wan-Bissaka for criticism.
And despite stemming the flow in the second half and keeping the score low, Keane believes Solskjaer could be under pressure after this match over the 5-0 humiliation against Liverpool.
"I think Solskjaer will be under pressure tonight also with respect to the Liverpool game," he said.
"When you are the coach, and he entered this game this morning, talking about the players who are in a good mood, but I have been a coach and if you are going to a game and you look over your shoulder and you see Luke Shaw, Harry Maguire and Fred, and your job depends on these guys, then you're in trouble.
"They are international players. Shaw, Maguire, Bailly, midfield and Fred. Fred plays for Manchester United. Anyone who tells me Fred is good enough for United lives in cuckoo land, and this is an important part of the football field. .
"You are watching these players and you don't know what you will get. You don't know what you will get with Manchester United."
Fred is playing for Manchester United. Anyone who tells me Fred is good enough for United lives in the land of the cuckoo
Keane adds that United are in a bad position, with their biggest rivals having been more successful in recent years and suggests that Solskjaer may be better off without a job and not having to rely on the current crop of players.
"Now, Manchester City will enjoy the day and Liverpool have won a title in 30 and a half years, but Manchester Utd are in a bad position, but there is a way out.
"Is Ole the right man? Huge question mark. I hope he is but it is more a hope than a conviction because every time there is a bad performance like that Ole takes the blame.
Roy Keane issues a crushing verdict on Manchester United's performance in the derby defeat at Old Trafford

Whenever United produces a result, Ole is the luckiest man on the planet. He has Ronaldo. Ole doesn't seem to win but he has to look in the mirror and he has to do better here.
"He came to United at a difficult time, he runs one of the biggest clubs in the world, but if you have bluffers on the bus with you and you depend on Shaw and Wan-Bissaka. Imagine, you are depending on these guys.
"Ole, you might be better off outside."
Ole: Not how I would like Manchester United to play
Ole Gunnar Solskjaer admits his Manchester United side are having a "tough time" but insists they are able to change their fortunes

Speaking after the game, Solskjaer said Sky Sports this is not the way he wants his team to play.
"We have to go back to what we have been starting to look like for a while, and we have the players to do it," he said.
"We've been in this situation a few times obviously, since the last game we played here it was a very difficult period. We have to stay ahead, I can't look at myself and say it's the way I want Manchester United to play."
Asked if he is starting to think about having a loan time: "No, I don't start doing that. I always have good communications with the club, we are very blunt and honest about the situation. I work for Man Utd and I want the best for Man Utd and while I'm here I will do what I can to improve it, and it will go back to what we started to look like. "
Asked if the defeat was a brutal reminder of the gap between them and the top Premier League teams, Solskjaer said: "At the moment, yes, but we have to go back to what we started to look like, and we started to look like a real team. at the end of last season, at the beginning of this season.
"I'm sure that when we return, the players will be fresh in their minds after the internationals. The demands for me and for the players will be high, the expectations."