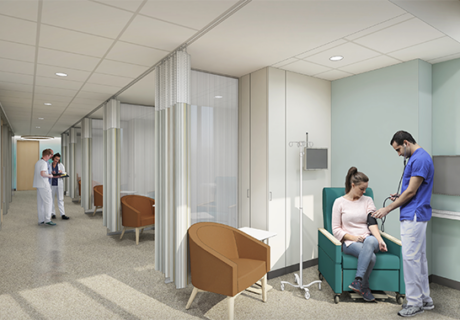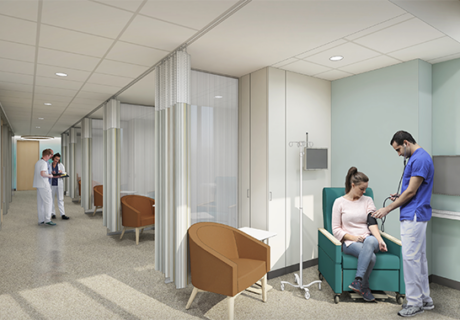 Joined HGA as a design researcher in 2012 after graduating with a PhD in interior design from the University of Minnesota, Kara Freihoefer is now the research director and leader of HGA's Design Insight Group, an interdisciplinary team of researchers, process improvement engineers, design thinkers and data analysts who work collaboratively to facilitate research and discovery and support change based on their findings.
In this role, Freihoefer leads enterprise-wide research initiatives across all market sectors, including healthcare, working to develop new ways of practicing architecture and design through the creation and application of research tools focused on empathy and curiosity. Freihoefer is convinced that integrating research into every phase of the design process will lead to not only innovative but informed solutions that better respond to user needs.
The success of his approach was demonstrated last year through his work on an Emergency Department (ED) renovation with Trinity Health of New England, where Freihoefer's efforts – from literature reviews to shadow studies to Gemba walks – taught the team how to not only conduct research but use the results to make decisions.
For example, by working alongside staff in the existing space, the team was able to apply the collected data to propose on-stage / off-stage layouts, ultimately validating patterns that improve efficiency by 20 to 30 percent. Freihoefer also created what is dubbed a "core team" of HGA, made up of the company's market leaders who strive to prioritize research topics in project work. This formalized process ensures a strategic and integrated approach to research at HGA, which has led to internal studies over the past year on topics such as inclusive design of rooms and units for patients with physical and mental health comorbidities, as well as preparation of the first aid for crisis events.
Additionally, he co-directed several exploratory investigations into the impact of the COVID-19 pandemic on telemedicine in outpatient care, as well as workplace strategy and design.
The effectiveness of Freihoefer's contributions, including her work at St. Elizabeth Healthcare in Kentucky and SSM Health in Wisconsin, has been recognized with recent Certification of Research Excellence certificates from the Environmental Design Research Association and continues to share her industry-wide knowledge through published work and speaking appearances.
What do you love most about your job?
I love being in project work, collaborating with colleagues and users, and finding new approaches to solving complex design problems.
What industry challenge do you hope to solve?
Data management. Our industry has so much data at its fingertips, but it is often fragmented. By better managing datasets, we have the potential to find relationships between different variables. For example, we could explore research questions such as how the dimensions of a patient room (spatial metrics) relate to patient and staff safety metrics such as falls or injuries at work (outcome metrics).
Who inspires you?
I am inspired by my colleagues and clients: their passion and commitment to creating projects that produce positive results make my work as a researcher fun and exciting.
What's the next big trend you envision for sanitary design?
Resilience engineering in terms of highly flexible and adaptable designs capable of responding perfectly to emergency events, from highly infectious diseases to natural disasters to traumatic events.
What have you learned in the last year?
Agility. Due to the pandemic, we have not been able to collect a lot of data on the ground. We had to learn how to adapt and conduct research surveys differently and do more with the data we already had.