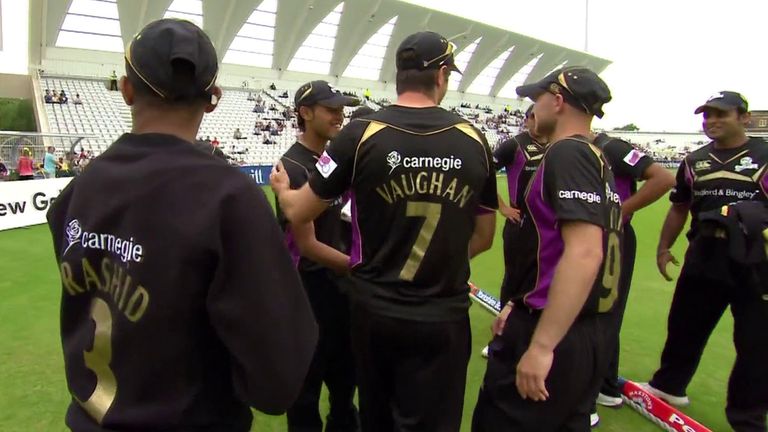 Michael Vaughan "completely and categorically" denies Azeem Rafiq's accusation of making a racist comment against him and other Asian players prior to Yorkshire's match against Nottinghamshire in 2009; This article contains comments that some readers may find shocking
Last updated: 11/15/21 9:35 am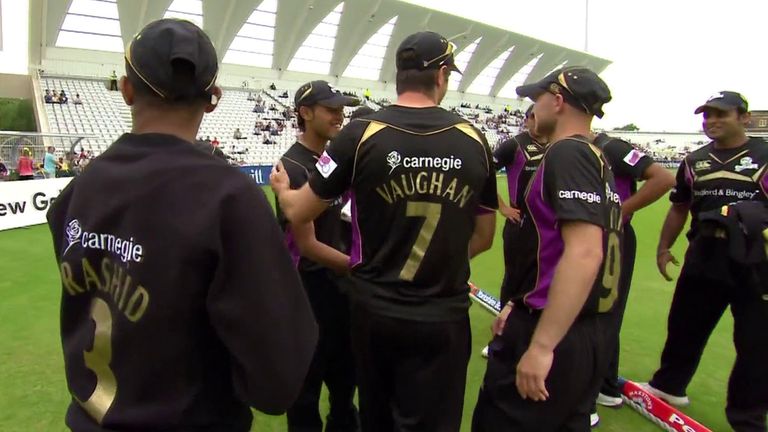 The 2009 Sky Sports footage shows Michael Vaughan shaking hands with Yorkshire teammates Azeem Rafiq and Adil Rashid – the match in which he allegedly made a racist remark. Vaughan denies the allegations

The 2009 Sky Sports footage shows Michael Vaughan shaking hands with Yorkshire teammates Azeem Rafiq and Adil Rashid – the match in which he allegedly made a racist remark. Vaughan denies the allegations
The match in which Michael Vaughan allegedly made a racist remark towards a group of Asian players in 2009 was identified as the Yorkshire T20 match against Nottinghamshire.
The match was broadcast live on Sky Sports and footage shows Vaughan shaking hands with four Yorkshire teammates: Adil Rashid, Azeem Rafiq, Rana Naved-ul-Hasan and Ajmal Shahzad.
Nothing is heard in the clip, but after this bout, Rafiq says former Yorkshire and England captain Vaughan said "there are too many of you, we need to do something about it."
Vaughan has "completely and categorically" denied he said that – and that finding out the claim was "like being hit in the head with a brick".
Sky Sports News showed the footage to Rafiq, who reiterated his claim that Vaughan made the comment. Rana Naved-ul-Hasan supports his former teammate's claim, although Shahzad has no recollection of the comment.
Monday, Rashid confirmed Rafiq's claims, becoming the third player to claim that Vaughan made the remark.
"I wanted to focus as much as possible on my cricket and avoid distractions at the expense of the team, but I can confirm Azeem Rafiq's recollection of Michael Vaughan's comments to a group of us Asian players," Rashid said in a statement. The cricketer.
The clip was also shown to Vaughan, who denies making the observation.
"I have nothing to hide. The 'you many' comment never happened," Vaughan wrote in Telegraph.
"Anyone who tries to remember the words said 10 years ago will be fallible, but I am adamant that those words have not been used. If Rafiq believes that at that moment something has been said that upset him, then that is what he believes.
"It's hard to comment on it other than to say that it hurts me enormously to think I've potentially hit someone. I take this as the most serious accusation ever put in front of me and will fight to the end to prove I'm not that person."
On Tuesday, Rafiq will provide evidence to lawmakers looking into Yorkshire's handling of its racism claims.
Former Yorkshire President Roger Hutton and CEO Mark Arthur will also speak, as will ECB CEO Tom Harrison.
Arthur resigned from his post last week, while Lord Patel replaced Hutton as president after the latter's resignation earlier this month.