Mophie Snap + Wireless Vent Mount review: Good iPhone car charger, but not quite MagSafe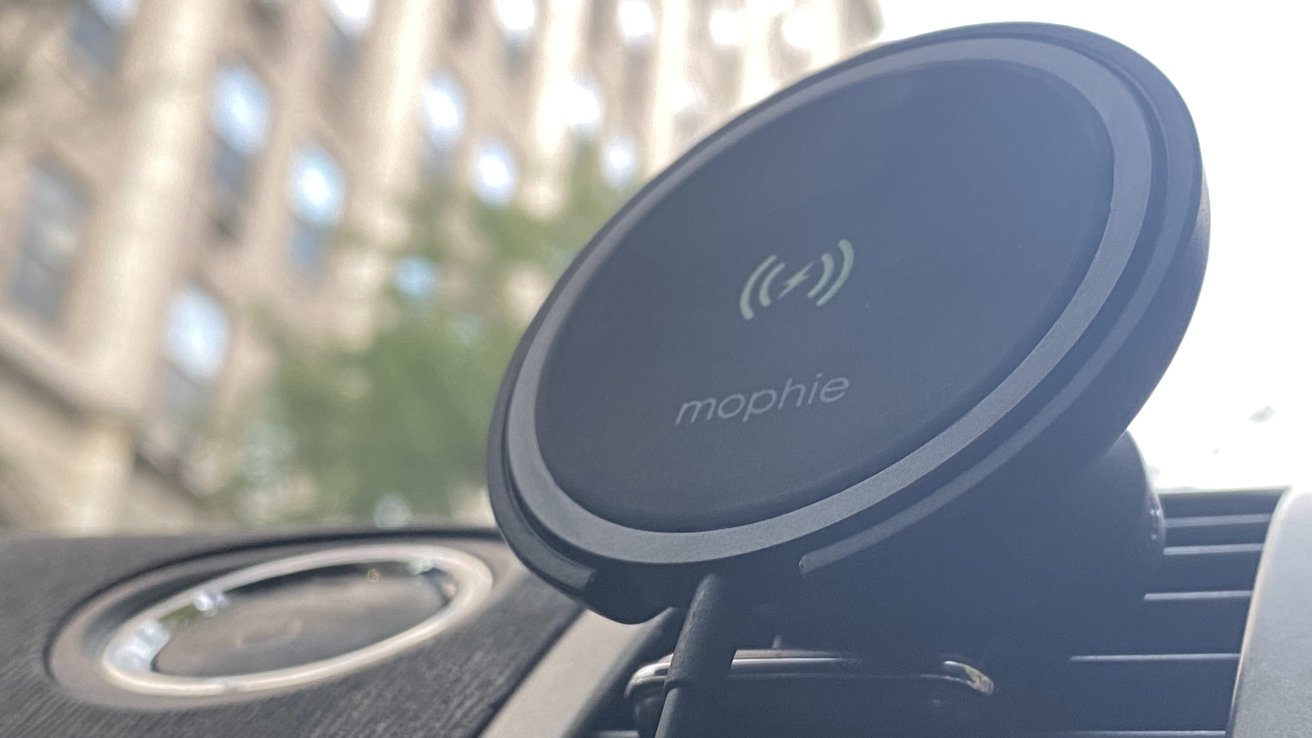 Mophie's MagSafe Compatible Snap + Wireless Vent Mount is a somewhat odd product, offering an affordable magnetic disk that mimics Apple's MagSafe charger, but only at half the charging speed of the official accessory.
Mophie's Snap + Wireless Vent Mount is unique in that it ships with its own custom-designed removable magnetic charging pad that works essentially the same as MagSafe, but not as fast as Apple's own cable.
By using the Snap + magnetic disk and adapter with an Android phone, users will get up to 15 watts of wireless charging, the same as MagSafe. But iPhone users are not so lucky, as the standard Qi wireless charging on the iPhone is capped at 7.5 watts.
When MagSafe is not MagSafe
Why is this? Because, like other Mophie Snap + accessories, including the Juice Pack Mini, the wireless vent mount is like MagSafe, but it's not actually MagSafe.
Mophie has employed a combination of magnets to match the MagSafe magnet placement in the iPhone 12 lineup, as well as standard Qi wireless charging, which has been available on the iPhone for years. The result is a hodgepodge that technically works with MagSafe, but avoids Apple's MagSafe license fees.
As a substitute for Apple's MagSafe cable, the disc that ships with the Mophie car mount unfortunately doesn't do enough to differentiate itself. It is essentially the same size and shape as Apple's MagSafe cable, up to 1 meter cable length with USB-C connector on the end.
In fact, the vent mount part of the product fits perfectly with Apple's MagSafe cable, which means that users can switch and get a faster charge with an official cable if they wish.
An affordable alternative, with caveats
So what is the point of this product? Price.
Mophie's Snap + Wireless Vent Mount is priced at $ 49.95, and that includes the magnetic disk, the ball joint that connects to your air conditioner's vent, and a USB-C power adapter for your cigarette adapter. car (only one USB- Port C).
Everything you need is in the box (except for a longer cable).
In comparison, if you wanted to buy an alternative accessory that simply contains Apple's official MagSafe charger, you'd need to spend $ 39 for Apple's MagSafe cable, plus another $ 15 + for a USB-C car charger, and that doesn't include the $ 15 to $ 35 that you will spend on the accessory to hold your MagSafe charger.
With that said, there are a few things we wish Mophie had done to improve the Snap + wireless vent mount. Shipping it with a fixed cable that needs to be replaced entirely if it frays or breaks is the first thing that comes to mind.
A drive with a female USB-C port, allowing the cable to be swapped or replaced, would be a potential improvement over the official MagSafe, perhaps helping to compensate for the slower charge speed.
The other problem is the length of the cable. At 3 meters, it was not a good length for us to do a discreet installation from inside our center console to the front dash. If Mophie had offered a longer cable, it would be another potential way to differentiate and improve Apple's cable.
The Mophie Wireless Magnetic Charging Pad is attached to a 1 meter USB-C cable.
As it stands, beyond price, the only real advantage the Mophie Magnetic Disc has over Apple's official MagSafe charger is that the disc and cable are black, while Apple's cable only comes in white.
Use
In terms of magnetic force, the disk works well. We drove with our iPhone 12 Pro mounted both in a silicone case and out of it, on brick roads in New York City in a 2008 Prius, and the iPhone never fell off the magnet once.
Similarly, the ball and socket vent bracket did not lose its position, although this may also depend on the strength of your AC vent. In particular, the Mophie mount is small and does not include any lower stem to help grip or maintain position, so some car owners may be disappointed.
The magnetic disc can be removed from the mount for greater freedom of use inside the car. However, the disc itself does not adhere magnetically to the media; it is easier to remove the disk by first removing the iPhone and then pulling the disk out of the plastic holder.
The product also ships with Mophie's Snap + adapter, which not only allows older iPhones to connect to Snap + and MagSafe accessories, but also incorporates Qi-compatible Android devices.
As for charging speed, the official MagSafe already felt very slow compared to what you can get with a 30-watt charger, so what you get here is even slower, but adequate. If you're streaming music via Bluetooth and using GPS and taking a long road trip with the screen on all the time, you'll be able to keep your phone full, but don't expect this to outweigh heavy use or provide a quick recharge with your output of. 7.5 watts.
The stand was strong enough to hold an iPhone 12 Pro, in our tests.
Conclution
Mophie's Snap + Wireless Vent Mount is far from perfect, but for its price, it can't be ruled out entirely.
At $ 50, it's just $ 10 more than Apple's MagSafe charger, and it includes a useful, but slow, replacement cable with magnets strong enough to hold an iPhone 12 Pro on a bouncy ride.
If you want a full 15-watt charge, we assume you can swap out Mophie's knockoff MagSafe for a real one, as Apple's charger fits snugly into the vent mount. But then you've turned a $ 50 purchase into a $ 90 purchase, which negates the main selling point of this product.
It's also worth considering that Apple's newly released MagSafe battery pack for iPhone 12 only charges at 5 watts, due to heat considerations. So while the Mophie cable runs at half MagSafe's potential capacity, it's still a faster option than Apple's $ 99 battery accessory when in your car. Plus, you get the added benefit of a handy magnetic mount.
If you're looking for a simple and affordable way to magnetically charge and mount your iPhone in your car, you'll be hard pressed to find a better option on the market right now than Mophie's Snap + Wireless Vent Mount. It has everything you need in the box, even if there is a lot of room for improvement.
At an affordable price of $ 50, especially compared to Apple's $ 40 MagSafe charger.
Everything you need is in the box, including a USB-C car power adapter.
The magnet and mount hold an iPhone 12 Pro in place, even on a bumpy road.
The Snap + adapter provides MagSafe-like compatibility for iPhones and older Android devices with Qi charging.
The charging disc is not MagSafe, so it does not offer a full 15 watt charge.
The fixed three foot cord may not be ideal for all car installations and cannot be replaced if the cord is damaged.
The AC bracket does not have bracing arms, which means it may not work well with all AC vents.
Score: 3 out of 5