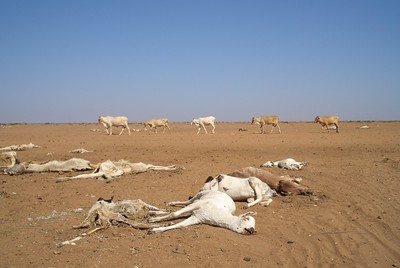 by Aimable Twahirwa (

kigali

)
Inter Press Service
KIGALI, Jul 20 (IPS) – Scientists recently unveiled a first-ever weather forecast model that uses artificial intelligence (AI) and machine learning solutions to help vulnerable African countries build resilience to climate shocks.
Researchers at the Kigali-based African Institute of Mathematical Sciences (AIMS) are working on a new AI algorithm that enables various end-users of weather forecasts to make data-driven decisions.
According to climate experts, these efforts are focused on building an intelligent weather forecast system that is multidimensional and updates in real time with a long range and is a technology capable of simulating long-term forecasts much faster than traditional climate models.
"The key to these interventions is to improve the accuracy of weather forecasts and help African governments better prepare for and respond to climate emergencies," Dr. Sylla Mouhamadou Bamba told IPS.
Bamba is the lead author of the Intergovernmental Panel on Climate Change (IPCC) Assessment Report 6 (AR6) for the contribution of Working Group 1: The Physical Science Basis and the African Institute of Mathematical Sciences (AIMS) – Canada Research Chair in Climate Change Science based in Kigali, Rwanda.
The AI ​​model currently being tested by researchers at the Kigali-based Center of Excellence focuses on analyzing large data sets of past weather patterns to predict future events more efficiently and accurately than traditional methods commonly used by national weather agencies in Africa.
Instead of calculating what the overall weather will be like in a given region or area to get forecasts, Bamba notes that developing modern statistical models using a machine learning approach to forecast sunlight, temperature, wind speed, and rainfall has the potential to predict climate change with the efficient use of learning algorithms and sensing devices.
Although most national weather agencies in Africa have tried to improve the accuracy of their weather forecasts, scientists say that while current technologies can forecast weather for days to come, they cannot predict weather for years to come.
"Many African countries still struggle to take measures to prevent climate-related disaster risks effectively due to a lack of long-term adaptation plans," says Dr. Bamba.
The latest findings from the United Nations Economic Commission for Africa (UNECA) show that as the global climate warms, the long-term adverse effects and extreme weather events caused by climate change will pose an increasingly serious threat to Africa's economic development.
The limited resilience of African countries to the negative impacts of the current climate is already resulting in lower growth and development, highlighting the consequences of an adaptation deficit, he said.
Indicative findings from economic experts show lower GDP per capita growth ranging, on average, between 10 and 13 percent (with a 50 percent confidence interval), with the poorest countries in Africa showing the largest adaptation deficits.
While projections show that climate change is likely to exacerbate high vulnerability, the limited adaptive capacity of most African countries, particularly the poorest ones, could set back development efforts in the most affected nations, said Dr. Andre Kamga, Director General of the African Center for Meteorological Applications for Development (ACMAD). This highlighted the need to build high-resolution models.
In addition to exploiting processes to achieve early warning for everyone in today's climate value chain, Dr. Kamga highlights the pressing need to move to impact-based forecasting to improve the quality of information provided to users and hope for more efficient preparedness and response.
While Africa has contributed negligibly to climate change, accounting for only two to three percent of global emissions, the continent still stands out disproportionately as the world's most vulnerable region.
The latest report from the United Nations Environment Program (UNEP) indicates that most of these vulnerable countries lack the resources to purchase goods and services to protect themselves and recover from the worst effects of climate change.
While AI and machine learning remain key solutions for researchers to overcome these challenges, Professor Sam Yala, President of the African Institute of Mathematical Sciences (AIMS) Center in Rwanda, is convinced that these modern weather forecast models are important in helping to manage issues related to improving adaptation and resilience in most African countries.
Frank Rutabingwa, Senior Regional Adviser at the United Nations Economic Commission for Africa (UNECA) and Coordinator of Weather and Climate Information Services for Africa Program (WISER), acknowledges that for African countries to prevent and control major climate-related disaster risks effectively, it is important to improve their forecasting capabilities and information interpretation.
The latest estimates from the researchers show that the ability of numerical weather forecasting in Africa remains low, with a widespread lack of nowcast provision across the continent and virtually no use of automated systems or tools.
AIMS scientists are convinced that this situation has significantly affected the ability of national meteorological services to issue warnings and thus potentially prevent loss of life and significant financial loss in many countries on the continent.
In Africa, a study by Dr. Sylla projected an extension of the torrid climate in West Africa by the end of the 21st century. However, other African regions, such as North Africa, East Africa, Central Africa and Southern Africa, lack this information.
"Artificial intelligence and machine learning can play a critical role in filling these data gaps on the reliability of weather forecasts that undermine understanding of the climate on the continent," he said.
IPS UN Office Report
Follow @IPSNewsUNBureau
Follow IPS News UN Office on Instagram
© Inter Press Service (2023) — All rights reservedOriginal source: Inter Press Service