Ford presents the exclusive new Focus ST Edition with adjustable chassis for the true driving enthusiast

• Ford introduces the most agile Focus ST to date, with high specification adjustable suspension and lightened alloy wheels for greater precision and cornering response.
• Focus ST Edition accompanied by a suspension guide to help enthusiasts optimize driving dynamics, including the special Nürburgring setting.
• Distinctive design includes unique Azura Blue exterior with glossy black detailing, unique ST badge and partially leather Recaro sport seats

Ford today announced a new special edition version of the Focus ST five-door sedan that improves driving dynamics with improved suspension and lightweight wheels for exceptional road and track driving experiences, along with unique exterior and interior specifications.
The Focus ST Edition is available to order in select European markets including the ÚK priced at £ 35,785. The most dynamic version of the fourth generation Focus ST ever offers true driving enthusiasts the opportunity to tailor the driving dynamics to their personal preferences using a Ford Performance adjustable coilover suspension system.
Cornering responses and driving dynamics are further enhanced with standard molded alloy wheels that reduce unsprung masses and sports technologies that include a hydraulically activated electronic limited slip differential (eLSD) and selectable ride modes, included track mode, which contribute to an even more rewarding and safer Focus ST driving experience.
Ford Performance has developed the Focus ST Edition exclusively in five-door hatchback style to ensure the lowest possible weight for optimized control and precision and with the 2.3-liter EcoBoost petrol engine and six-speed manual transmission, 1 for the maximum driver involvement.
A unique exterior features an Azura Blue finish not available elsewhere in the Focus range, eye-catching details in glossy black and a distinctive black roof. Interior improvements include partially leather Recaro sports seats, detailed blue stitching and a red ST start button.
"The new Focus ST Edition takes the sedan to a new level of driving precision and control," said Stefan Muenzinger, Ford Performance Manager, Europe. 'Not only does it offer greater balance and responsiveness for the enthusiast, it also gives the ability to adapt the feel and driving balance of the car to the customer.'
Precision and control
The Focus ST Edition will come with customers with a factory chassis configuration that has been extensively tested and developed by Ford Performance, including at the Nürburgring Nordschleife in Germany.
Tuned to optimize balance and cornering control while working hand-in-hand with the vehicle's high-performance transmission, the chassis also offers drivers the flexibility to further tailor suspension settings to their driving style or environment. specific.
The two-way adjustable coilover suspension system, manufactured by motorsport specialists KW Automotive, features twin tube stainless steel shock housings and powder coated springs, with a distinctive Ford Performance Blue finish. The ride height of the Focus ST Edition is lowered by 10mm front and rear compared to the standard Focus ST, with an additional 20mm adjustment available to the customer. Spring rates are up more than 50% over the standard Focus ST.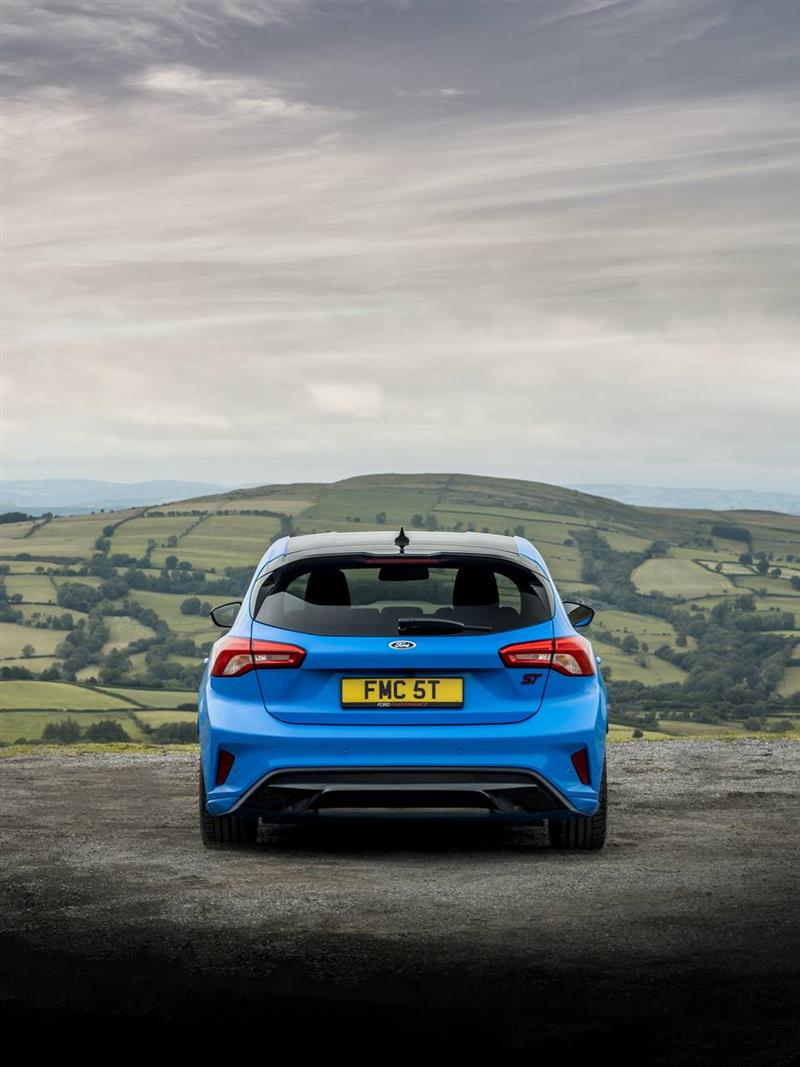 Twelve overhang settings – the degree of upward movement of the shock allowed when the wheel hits a bump on the road and 16 rebound settings – how quickly the shock returns to position after an upward movement, damage Focus ST drivers an even greater degree of control over cornering responses.
The Focus ST Edition also comes with a technical paper that provides recommended suspension settings for a variety of driving conditions, including a dedicated adjustment for the Nürburgring, to help high-performance driving enthusiasts fine-tune their experiences. driving.
The 19-inch light alloy wheels, fitted as standard with Michelin Pilot Sport 4S tires, reduce unsprung masses at each corner of the vehicle by 10%. The wheels are built using a flow forming process, which compacts the aluminum alloy to maintain tensile strength and increase impact resistance by using less material. Able to more effectively follow the profile of rougher road surfaces and reduce the demand for shock absorbers and springs on the Focus ST Edition, the lightweight wheels improve tire contact with the road for greater grip and response.
The Focus ST Edition continues to use sophisticated sports technologies to improve performance, including an innovative eLSD that uses hydraulically activated clutches to redistribute up to 100% of available torque to the wheel with the most traction to counteract wheel spin. Faster-acting and more precise than a conventional mechanical LSD, the system can pre-adjust torque based on inputs from engine and vehicle sensors.
The all-aluminum 2.3-liter EcoBoost engine uses a low-inertia twin-scroll turbocharger along with an optimized air intake and exhaust system to deliver 280PS of power at 5,500rpm and 420Nm of torque from 3,000rpm / min at 4,000 rpm. technology inspired by the Ford GT supercar and F-150 Raptor pickup also offers even faster power delivery in Sport and Track driving modes.
Acceleration from 0-100km / h takes 5.7 seconds, with standing start performance supported by flat shift capability that keeps the throttle open when the clutch is disengaged during gear changes via the six-speed manual transmission gears. The Focus ST Edition can reach a top speed of 155 mph.
Drivers can also use 2 selectable driving modes to adjust eLSD, throttle mapping, electronic power steering (EPAS) and electronic stability control (ESC) to suit the driving scenario. A dedicated track mode provides the clearest responses and maximum freedom within the ESC system for maximum feedback and driver engagement.
As with the standard Focus ST, an optimized steering knuckle design; responsive, two-shift lock-to-lock EPAS; and the high-performance braking system with 330mm front and 302mm rear discs and optimized fade resistance support enthusiasts on the track.
Distinctive design
The Focus ST Edition's practical five-door hatchback body benefits from exclusive features and specifications both inside and out.
The unmistakable Azura Blue exterior paint color contrasts with the glossy black details on the upper grille, front bumper wings and rearview mirror caps, as well as the rear roof spoiler and rear diffuser panel. The roof panel is also finished in glossy black and is complemented by ST badges edged with a black bezel.
Inside, the Focus ST Edition's standard partially leather Recaro sports seats are edged with Ford Performance Blue stitching, with the same effect used on the ST leather steering wheel, gearshift gaiter, center console knee pads and floor mats . The engine start button is also finished with sporty red lettering to complement the ST badges.
The Focus ST Edition joins the current Focus ST range, developed by Ford Performance, which offers five-door bodies and station wagons, 2.3-liter 280hp EcoBoost petrol 1 engines and 190hp 2.0-liter EcoBlue diesel and a seven-speed engine. automatic gearbox option for EcoBoost petrol.
Source – Ford