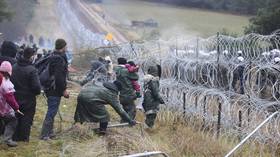 Words are not enough to resolve the refugee crisis on the Polish-Belarusian border, Prime Minister Mateusz Morawiecki said, calling for NATO to take "concrete steps" to address the issue.
"There is no doubt that things have gone too far", Morawiecki told Polish news agency PAP on Sunday, adding that "Words alone are not enough to stop" Minsk, which Warsaw accused of orchestrating the border crisis.
The prime minister also revealed that he and the leaders of Latvia and Lithuania were considering invoking Article 4 of the NATO Treaty to encourage the alliance to take action on the situation on Poland's eastern border with Belarus.
Article 4 says that the parties to the treaty must hold consultations "Whenever, in the judgment of one of them, the territorial integrity, political independence or security of one of the parties is threatened".
It is not enough "Publicly express our concern", Morawiecki said, adding that "I commit" Other "Concrete steps" they were needed by all NATO members. He said he was in constant contact with other European leaders and recently spoke with the President of the European Council Charles Michel and the head of the European Commission Ursula von der Leyen. He said US President Joe Biden was aware of what Morawiecki described as being from Minsk "Provocative actions".
The head of the Polish government also said that new sanctions against Belarus are on the table and will be considered at the next European Council emergency summit requested by Poland. "We will certainly discuss further sanctions, including the complete closure of the border", He said.
Morawiecki accused Minsk – and Moscow – of taking action "Disinformation" campaign against Poland to blame it for the crisis. He also urged the Western media not to fall in love with Belarusian President Alexander Lukashenko "Handling" in exchange for access to refugee camps, adding that some recent articles in the United States gave him the creeps. He also encouraged the media to rely on "Confirmed reliable information" provided by Poland through a specially created state portal.
Thousands of asylum seekers, mainly from the Middle East, have camped on the border with Belarus. The EU accuses Belarus of orchestrating the crisis. Minsk has repeatedly denied this, explaining that it simply cannot afford increased border security due to crippling Brussels sanctions. Belarus also accused the EU of acting alone "Hybrid was" on Minsk by supporting the Belarusian opposition.
Do you think your friends would be interested? Share this story!