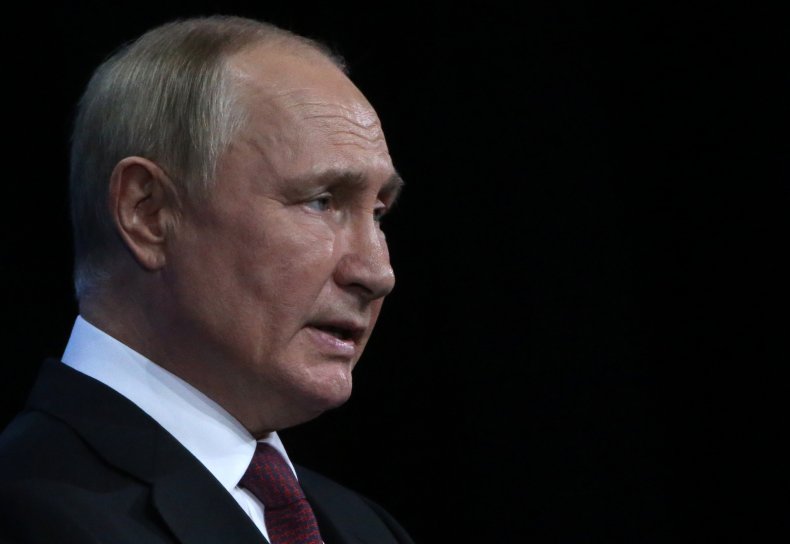 Russian soldiers who refuse to fight in Ukraine will face 10-year prison sentences under a new law signed by Russian President Vladimir Putin on Saturday.
Putin launched Ukraine's "special military operation" on February 24, with Kremlin leaders hoping for a quick victory. However, Russian troops were met with a stronger than expected response from their Eastern European neighbor. Putin's army has faced a host of problems, including trouble recruiting motivated soldiers, which has allowed Ukraine in recent weeks to launch counter-offensives to retake occupied territory.
Putin announced Wednesday that Russia would undergo a partial mobilization drawing on reserves to fight in Ukraine as troop and equipment losses continue to mount. The announcement is seen as an escalation of the conflict, but has been met with protests in more than 38 cities in Russia, a rare indication of growing frustration with the war among the country's citizens. The mobilization could lead to 300,000 reservists being called up to serve.
Despite some discontent with partial mobilization, refusing to fight in the war is now punishable by up to 10 years in prison, according to moscow times, a Russian newspaper in English.
The law punishes desertion from military posts during the mobilization with up to 10 years in prison, according to the newspaper. Conscientious objectors will face a three-year sentence.
Meanwhile, any soldier who voluntarily surrenders will face a 15-year prison sentence, according to the Times. Exceptions can be made for first-time offenders who "took steps toward their release, returned to their unit or place of duty, and committed no other crimes while in captivity."
Looting can also result in a 15-year prison sentence, the newspaper also reported.
The bill was approved by the Duma, the Russian parliament, last week before Putin's mobilization announcement and received support from all major parties, according to the Times.
Russian mobilization sees early resistance
Despite a new Russian law that could send reservists who refuse to fight to prison, the Russian leader's mobilization announcement met with resistance. Opposition is not commonly seen in Russia, as the Kremlin cracked down on dissent following the announcement of the war.
The protests that broke out resulted in the arrest of at least 1,386 people. Meanwhile, an online petition opposing the mobilization received more than 327,000 signatures.
"In the current situation of uncertainty, we are not prepared to expose the men of our country, brothers, sons, husbands, fathers and grandfathers, to moral or physical danger," the petition says.
Military experts doubt that the mobilization will help Russia
Military experts have also raised doubts that Putin's mobilization will result in a substantial boost for the country, which for months has struggled to retain qualified troops.
The Institute for the Study of War (ISW) said on Saturday that mobilization is no longer producing more soldiers and "probably will not produce mobilized reserve forces, even of the low quality that Putin's plans, unless the Kremlin can quickly fix fundamental problems and systemic problems.
Videos have emerged that appear to show reservist troops exhibiting disorderly behavior. A video showed a group of soldiers intoxicated and asleep at a stop on the way to the front. Meanwhile, another video showed troops refusing to line up when told to do so.
Pentagon press secretary Air Force Brigadier General Pat Ryder said adding 300,000 troops to an invasion it's already fighting may not give Moscow the boost it needs to turn the tide of the war.
"If you already have significant challenges and you haven't addressed some of those systemic strategic issues that make any large military force capable, there's nothing to indicate that it's going to get any easier by adding more variables to the equation," Ryder said.
The mobilization comes after Ukraine recaptured more than 3,000 square miles through counter-offensives in Kherson, a key southern city that serves as a gateway to Russian-annexed Crimea, and areas near Kharkiv, a major city in the east. from Ukraine.
news week contacted the Russian Foreign Ministry for comment.