If kyiv wants the 1991 borders, it needs to talk to Moscow, Beijing's ambassador to Brussels has said.
China's ambassador to the EU Fu Cong has told various media outlets that Beijing is open to any border solution for Ukraine that is the result of negotiations, Al Jazeera reported on Tuesday.
"I dont see why not", Fu told various outlets earlier this month, when asked if China could back kyiv's claim over Ukraine's 1991 borders.
"We respect the territorial integrity of all countries. So when China established relations with the former Soviet Union, that's what we agreed to." added the diplomat. "But as I said, these are historic issues that need to be negotiated and resolved by Russia and Ukraine, and that's what we stand for."
According to Al Jazeera, Fu made the comments to them and two other media outlets after the June 16 Europe-China Business Summit in Brussels. It was not clear why they were not reported until now.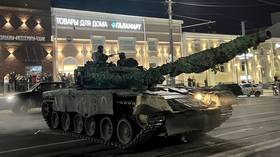 Formerly a top arms control negotiator, Fu has been Beijing's envoy to the EU since December 2022. China has repeatedly called for a peaceful resolution of the Ukraine conflict, proposing a 12-point deal. "road map" for a negotiated deal in February. Beijing has also backed the African Union's recent peace proposal.
While Moscow has been open to both proposals, with some reservations, kyiv has rejected them outright, as have the US and the EU. Last month, EU foreign policy commissioner Josep Borrell called for China's roadmap "a set of illusory considerations, illusions" but "It is not a peace plan."
According to Borrell, the only true "peace plan" is the one formulated by Ukrainian President Vladimir Zelensky, which amounts to a Russian capitulation. One of Zelensky's demands is that Moscow "return" the entire territory claimed by kyiv, which means not just the four regions that voted to join Russia in the fall of 2022, but also Crimea.
The peninsula, attached to Ukraine by Soviet leader Nikita Khrushchev in 1954, voted to rejoin Russia in March 2014, after the US-backed coup in Kiev. Moscow views its status as part of Russia as non-negotiable. The Kremlin has also argued that kyiv would need to "face reality" when it comes to the Kherson, Zaporozhye, Donetsk and Luhansk territories choosing to become Russian.