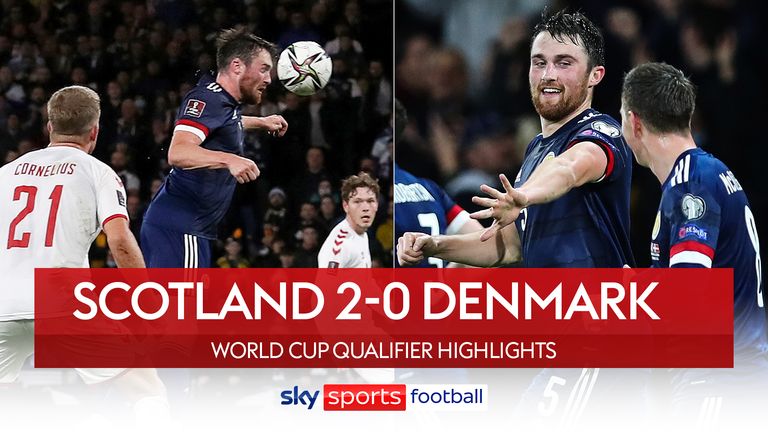 Steve Clarke says "it all went together" as Scotland recorded their sixth straight win to end Denmark's long streak of unbeaten qualifiers.
Denmark were unbeaten in their last 26 World and European qualifiers and had won all nine of their Group F games to make it to the top of the group, but ran into a relentless side from Scotland who won 2-0 to book a semi-final. housewife. final playoff.
Clarke's men have won six consecutive competitive games for the first time since winning six straight games for Home Nations between March 1928 and February 1930.
The highlights of the Group F World Cup qualifying match between Scotland and Denmark.

Clarke said Sky Sports: "They criticize me for not smiling enough, but if you can't smile after such a performance there would be something wrong with me. I'm happy that everything went well. We played a good kick on the front foot to try to win the game. It's a good evening for us. I knew the players were confident and they showed it. We had to keep going but we defended well even though the legs went a bit towards the end. A great night with a great one. atmosphere.
"It was important to win the home semi-final. I risked a bit playing against the boys who had the yellow card but wanted to finish high. We had a chance to win six competitive games in a row which isn't easy to do. The boys wanted to do it. to do it and they proved it on the pitch ".
Center-back John Souttar returned home in his first appearance in Scotland since he was sent off in a 2018 defeat by Israel. It was a special night for the 25-year-old Hearts defender whose career was marred by injury.
Clarke chose it for a special price.
"It's the best story of the night," he said.
"I'm so happy for him. He had a terrible time with injuries to come back. Also to be on the team. He was happy to be back and to play as he played. Not just his goal, but defensive and with the ball .
"Congratulations to John. I gave him a big hug when he came off the pitch and it was quite emotional. You know when you were a player too and been involved in the game for so long how difficult the road back is.
"I'm absolutely happy for him."
After scoring in his first game as a starter in Scotland for three years, John Souttar dedicated the goal to his brother for helping the Hearts defender in his recovery.

The play-offs will run from 24 to 29 March, with 10 runners-up in groups joined by the two best group winners of the 2020/21 UEFA Nations League overall standings who did not qualify directly as group winners, nor entered the play-offs as early as second classified in the group.
On 26 November, the 12 teams will be drawn into three play-off routes for the one-off semi-finals on 24 March and the finals on 29 March. The three winners of the course will qualify for the World Cup.
Scotland will discover their opponents in the play-offs on Friday 26 November before the single semi-final on 24 March. The draw for the World Cup, which will involve Denmark and potentially Scotland, will take place on 1 April next year.