The Iraqi government expelled the Swedish ambassador and ordered its own envoy to return home, in a show of outrage at Stockholm's decision to allow a protest outside the Iraqi diplomatic mission during which activists were seen stepping on and kicking a copy of the Koran.
Iraqi Prime Minister Mohamed Shia al-Sudani's office announced the decision on Thursday afternoon, saying it was prompted by Sweden. "repeated permission to burn the Holy Quran", as well as "Insults to Islamic sanctities and the burning of the Iraqi flag."
Al-Sudani ordered the Foreign Ministry to "remove the Iraqi Chargé d'Affaires from the Embassy of the Republic of Iraq in Stockholm", and also "ordered the Swedish ambassador in Baghdad to leave Iraqi territory," government spokesman Basim Alawadi said in a statement.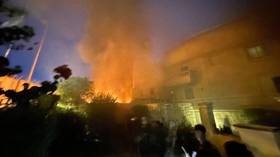 The expulsion comes amid a diplomatic dispute that erupted after Swedish police allowed an Iraqi citizen to burn down a copy of the Islamic holy book in Stockholm last month, and granted permission for a similar stunt at a gathering outside the Iraqi embassy.
While a small protest took place at the embassy on Thursday, protesters stopped short of burning the Quran but were instead seen stepping on it, according to the Associated Press. They also threw to the ground and kicked an Iraqi flag and photographs of the influential Muslim cleric Muqtada al-Sadr.
Earlier this week, Iraqis angered by the planned burning of the Koran marched on the Swedish embassy in Baghdad, smashing the building and setting it on fire. Although no diplomatic staff were injured during the incident, Swedish Foreign Minister Tobias Billstrom criticized the Iraqi government for failing to protect the facility.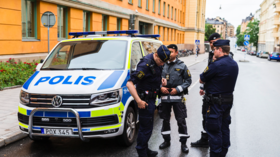 Iraqi officials later condemned those who broke into the Swedish embassy and vowed to protect the building, but stressed that "Any repetition of the incident related to the burning of the Holy Quran on Swedish soil would require the severance of diplomatic relations."
Shortly after the protest in Stockholm on Thursday, Baghdad's Media and Communications Commission said it had suspended the operating license of Ericsson, a major Swedish telecommunications company, and vowed to cut ties with other Swedish companies.
You can share this story on social networks: