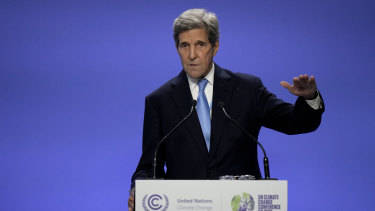 Biden's climate envoy, former Secretary of State John Kerry, called the surprise deal a major milestone that would give much-needed impetus to COP26 talks.
"The two largest economies in the world have agreed to work together to raise climate ambition in this pivotal decade," Kerry told reporters in Glasgow.
"Our teams have been working together for months and we have worked in good faith. We found common ground. "
Kerry described the joint statement as a "roadmap for our present and future collaboration" on climate change.
"It specifically states and identifies the need to accelerate the transition to a global net-zero economy," said Kerry.
Loading
"Secondly, it engages in a number of important actions, not in the long term but now, in this decade when it is needed."
Releasing the joint statement, Xie said the statement is the result of the "spirit and instructions of our two presidents" and the product of 30 virtual meetings between teams of Chinese and American officials, as well as meetings in Shanghai, London and Washington, before finally reach agreement in Glasgow on Wednesday afternoon local time.
"To ensure a successful COP26 and facilitate an outcome that is ambitious and balanced, we will adhere to the principle of common but differentiated responsibilities and take into account the respective national circumstances," he said.
"We have reached a consensus regarding the Paris framework and also the Paris temperature control targets, as well as climate finance. We are committed to working together and with other parties, facilitating the finalization of the regulation of the Paris Agreement in order to build global carbon markets and also improve transparency. "
He added that China and America have reached a consensus on the 2030 goals, the Paris climate control goals, and the controversial area of ​​finance for developing nations.
He noted that US states have developed a plan to reduce methane emissions and said China will follow suit. "We also encourage joint research along these lines," he said.
"Climate change is a common challenge for humanity. It's about the well-being of future generations.
"Climate change is becoming more and more urgent and serious".
Receive daily updates on the climate summit that will shape our future. Subscribe to our COP26 newsletter here.