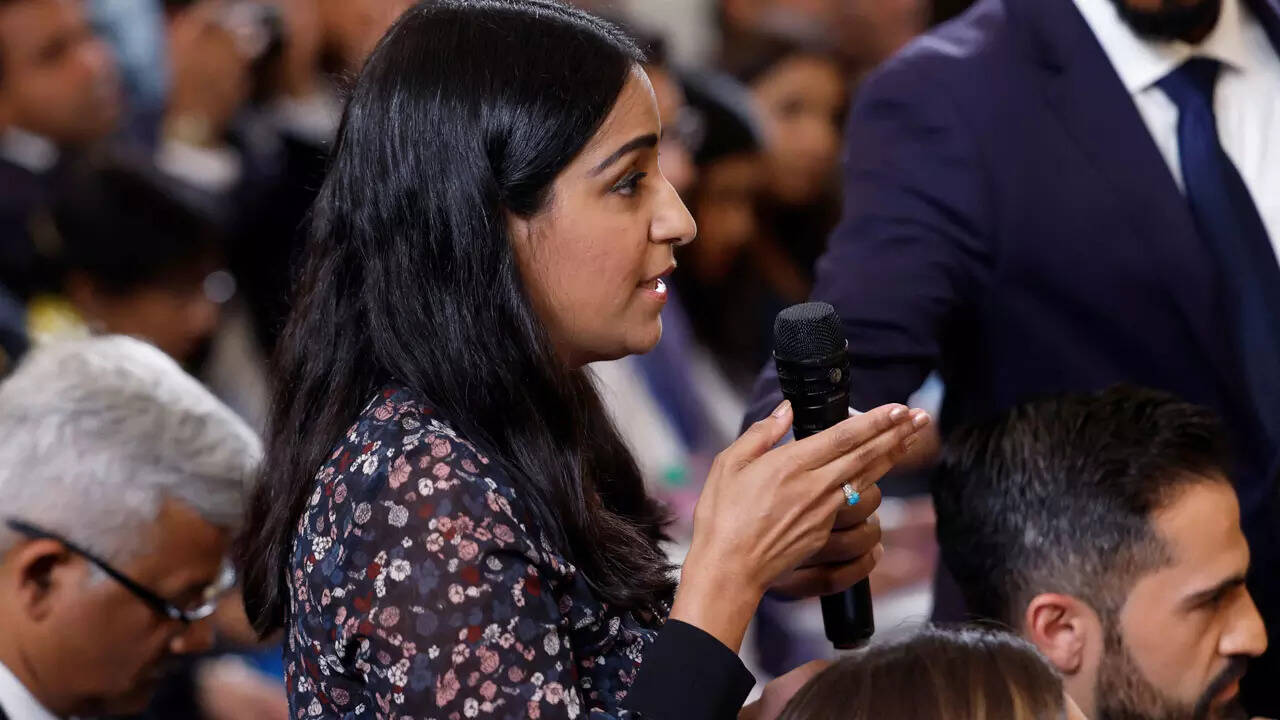 WASHINGTON: The Biden White House has condemned the alleged online harassment and intimidation of the Wall Street Journal reporter. Sabrina Siddiqui whose question to Prime Minister Narendra Modi during a news conference last week about alleged discrimination against religious minorities in India has sparked fury among his supporters, who back with their claim that such reports are motivated and exaggerated.
"We are aware of the reports of such harassment. It is unacceptable. We absolutely condemn any harassment of journalists anywhere and under any circumstances." White House spokesman John Kirby said in response to a question, even as cabinet ministers in India joined right-wing trolls in attacking former President Barack Obama, who also appeared to criticize the prime minister on the issue.
"It's the antithesis of the very principles of democracy that were on display last week during the state visit," Kirby added, as both Obama and Siddique came under fire and questioned for their lack of concern over discrimination against Hindu minorities in other countries and in the United States. own record on human rights and civil liberties.
White House press secretary Karine Jean-Pierre joined the fight, condemning "any effort to intimidate or harass a journalist or any journalist who is just trying to do their job" when the dispute ignited exchanges on social media over the weekend.
The Wall Street Journal also defended Siddiqui, saying she is a respected journalist known for her integrity and impartial reporting. "This harassment of our reporter is unacceptable and we strongly condemn it," the newspaper said.
Pro-BJP elements continued to attack Siddique, Obama and the US media's approach to the issue, saying calling out their "hidden agenda and bias" is legitimate.
"This is also freedom of expression. Just as journalists have the right to ask questions, citizens also have the right to denounce biased reports. Period! Go home, you crybabies, if you can't deal with this," said one of the hundreds of tweets that supported the prime minister's claim that since India is a democracy and is widely accepted as such, there is no room for discrimination against any minority.
Modi also suggested at the press conference that since the government was constitutionally secular, it has a duty to provide services to all people regardless of their religion, caste, etc., and it does, a response that critics say, it avoids private, institutional and social discrimination. it has become more prevalent under the Modi government.
Meanwhile, the journalist at the center of the storm, branded a "Pakistani Islamist", posted a cryptic tweet with a photo of her cheering for the Indian cricket team along with her father, saying: "Since some have chosen to To emphasize my personal background, it feels right to provide a fuller picture. Sometimes identities are more complex than they appear."
Former President Obama, who actually reversed the administration's decision to ban Modi from entering the United States and welcomed him to the White House following his (Modi's) election in 2014, has not responded to strong criticism from colleagues in the prime minister's cabinet, in particular the finance minister. Nirmala Sitharaman and Defense Minister Rajnath Singh, who questioned his bombing of Muslim countries.
Obama and Modi appeared to have developed a personal relationship towards the end of the former's term as president, to the point of addressing each other as "Barack" and "Narendra". But in an interview with Christian Amanpour on the eve of Modi's meeting with Biden, Obama said that if he were in the position of President Biden meeting Modi, he would tell the prime minister that "if he doesn't protect the rights of ethnic minorities in India, then there is a very high possibility that India will, at some point, start to separate."
"I think it is appropriate that the President of the United States, where he can, uphold those principles and challenge, either behind closed doors or in public, trends that are troubling," he added.
That sparked fury among Modi's cantankerous supporters, who invoked the former president's middle name, Hussein, to highlight his Muslim heritage and spawned the hashtag #ObamaDon'tPreach to troll him. Obama however is a practicing Christian; he sometimes also carries a Hanuman statuette in his pocket.
US officials argue that it is perfectly legitimate, even desirable, for both countries to criticize the other's treatment of minorities for the betterment of both societies.
In fact, prior to Modi's visit, the White House said it would raise its concerns on the matter without lecturing Modi.
"We do it in a way where we don't seek to lecture or claim that we don't have challenges ourselves. Ultimately, the question of where politics are going and the question of democratic institutions in India will be determined within India by the Indians. The United States will not determine it," Biden's national security adviser Jake Sullivan said.
On Monday, the White House confirmed that the matter was listed in the Biden-Modi talks.
"So, as we have said many times, the president will never… never be ashamed to have those conversations with a world leader, a head of state, when it comes to human rights. He has done it for the past two years. years and throughout his career as vice president and certainly as a senator. I'm not going to get into private conversations, but I think we've made ourselves very clear here about our view," White House press secretary Karine Jean Pierre said.
Look
The White House condemns the harassment of WSJ reporter Sabrina Siddiqui, who questioned Prime Minister Modi on human rights