Tisha Campbell and her children Xen, 20, and Ezekiel, 12, attending the HollyRod 2023 DesignCare Gala at The Beehive on July 15, 2023 in Los Angeles, California.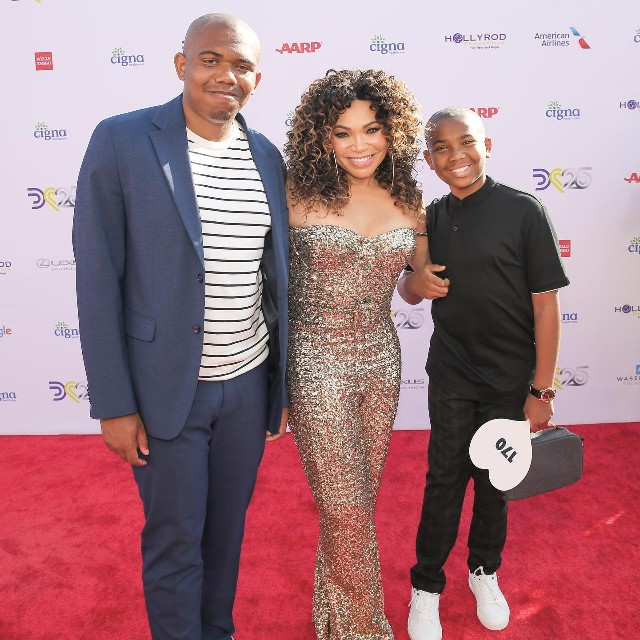 The event was organized by Tisha's friends Holly Robinson Peete and Rodney Peete, and featured a charity fashion show and auction that raised funds for autism and Parkinson's disease.
Tisha expressed her sincere appreciation for the gala on Instagram, calling it an "awesome #hollyrod night!"
She wrote: "My amazing, kind and loving friends @hollyrpeete and @rodneypeete9 hosted #designcare, a charity fashion show and auction benefiting #autism and #parkinson's. It also honors the people who have invested their time in amazing philanthropic work, some of which were my favorite power couple @nicoleariparker and @boriskodjoe. I am lucky to surround myself with people who truly care about others. "
The evening held special significance for Tisha Campbell as her son Xen was diagnosed with autism when he was just 18 months old. Now at 20, Xen is thriving in college, defying all odds. In 2020, Campbell proudly announced that her son had been accepted to the university she had dreamed of attending since she was eight years old.
"…Today, I cried happy tears for two hours straight in traffic. Today my son, Xen, entered the university that he has talked about since he was eight years old. He didn't wait for anyone to help him. He didn't wait for us to help him and when someone said he would never get in, he applied anyway. It's very fitting because this is how he has lived his life no matter the odds."
She continued: "My baby wants to be an animal conservationist and she will be. She has stayed on the deans list and works two jobs because she wants to be independent from a silver spoon. She cares less about labels. Xen, mommy's goal was to make you as independent of me as possible. She wanted you to be able to survive a lot without me. I never knew you would exceed my hopes for your future. You are an amazing man. Mommy loves you with all my heart and soul. You and your brother are my everything.
In December 2020, Tisha Campbell and her ex-husband, Duane Martin, finalized their divorce. Despite this, they continue to be parents to her incredible children, Xen and Ezekiel.
Photos: Craig Stanley Creative