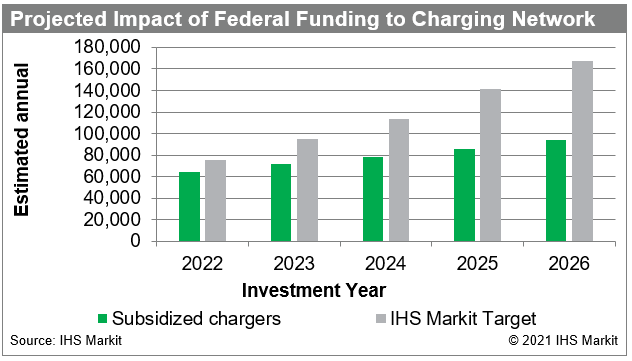 Infrastructure Bill's electric vehicle charger funds a good start, but more funding is likely to be needed to meet growing demand
IHS Markit Forecasts US Infrastructure Bill Will Only Integrate 66% Of The Required Growth Of Electric Vehicle Chargers In The US Through 2026
Today President Joe Biden signed the $ 1.2 trillion infrastructure bill into law. The bill is expected to support the auto industry in many ways, from improving road conditions, cleaner commercial vehicles, electric vehicle battery factories, battery recycling, and lithium mining and refining. However, one of the biggest allocations for electric vehicles will be towards vehicle charging. Approximately $ 7.5 billion has been earmarked for recharging alternative fuels, primarily for electric vehicle chargers and support infrastructure across the country.
IHS Markit estimates that the US federal investment will directly contribute to the construction, maintenance and operation of approximately 400,000 newly installed Level 2 AC and Level 3 DC rapid chargers in the United States between 2022 and 2026. Based on the details outlined on the invoice, the chargers must be open-source, which means that funding cannot go to Tesla's proprietary Supercharger network, unless it opens it to non-Tesla vehicles.
However, IHS Markit believes this investment is unlikely to meet the growing demand from the US plug-in electric vehicle fleet. Along with the nation's current electric vehicle charging infrastructure of more than 100,000 chargers in 50,000 publicly available locations, IHS Markit estimates that approximately 600,000 additional chargers will need to be installed in another 100,000 public locations by 2026.
The figure does not include the 3.2 million private tier 2 home chargers that are expected to be installed in residential homes, mainly garages, during the investment period.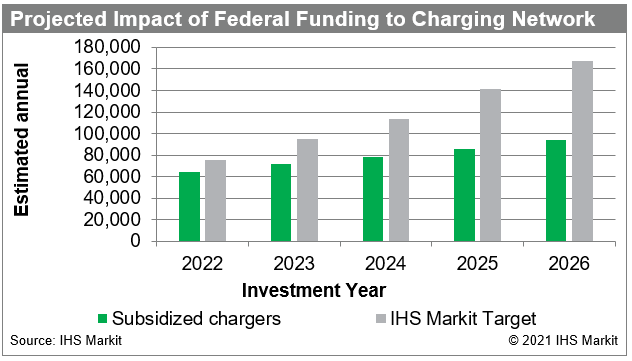 This bill represents the first large-scale national investment in electric vehicle charging infrastructure. "The Biden administration's investment is not hyperbole and will have a significant impact on the US electric vehicle charging supply," said Mark Boyadjis, global automotive technology leader at IHS Markit. "However, even an investment of this magnitude will prove insufficient in the face of the rapid growth of electric cars that will soon come into circulation, indicating the need for further support from municipalities, public services and private investments to bridge the gap."
IHS Markit expects EV vehicles in operation (VIO) on the road in the United States to increase from 1.5 million in 2020 to approximately 9.3 million units in 2026. IHS Markit estimates that the nation needs approximately 700,000 cumulative magazines by 2026 to meet that demand, and the 400,000 that the US bill will support is not enough to get us there entirely. Over the 5-year investment period, federal subsidies are expected to meet only two-thirds of what is required to power the future US electric vehicle fleet.
Additionally, IHS Markit expects the battery capacity of electric vehicles to steadily increase over the next few years. "This will allow the average electric vehicle to travel further on a single charge, reducing in principle the need for such abundant infrastructure," said Graham Evans, director, supply chain and automotive technology, IHS Markit. "However, from a consumer perception perspective, plentiful EV charging is needed to encourage consumers who are skeptical that a BEV is feasible for them."
75% of US electric vehicle owners prefer to charge at home, but a successful transition to a nationwide electric vehicle fleet requires a way for those without that ability to cost-effectively charge at public facilities. Overall, only 63% of US households have access to a garage, and this figure is lower in urban areas where more than 50% of electric vehicle sales occur. "If electric vehicles remain impractical for the dwellers of apartments, condominiums and historic homes, we cannot adequately meet the administration's stated goals for electric vehicles," said Colin Bird-Martinez, principal automotive consulting analyst, IHS Markit.
The bill allocates $ 5 billion to be granted to states to install electric vehicle charging stations in the United States; and $ 2.5 billion in grants to government agencies to implement publicly available electric vehicle charging infrastructure, hydrogen refueling, propane refueling and natural gas refueling through 2022-26.