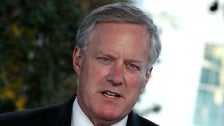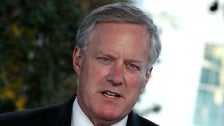 MSNBC unearthed a video clip of the then representative. Mark Meadows attack an official he accused of "filibustering" Congressional subpoenas – issued during Donald Trump's administration.
On Friday, Meadows ignored a subpoena before the House Select Committee investigating the Capitol uprising.
In an interview with Fox News in summer 2018, Meadows attacked the then Deputy Attorney General Rod Rosenstein for ignoring subpoenas requesting information regarding the Special Advocate Robert Muellerof the inquiry into Russian interference in the 2016 presidential election. Rosenstein had already provided thousands of pages of documents.
"It's about transparency so the American people can judge for themselves," Meadows said in the clip rerun on Friday on "Deadline". "They might be able to ignore Congress, but they can't ignore the American people."
"For nine months we have been asking for documents … And what we found is not only that the subpoenas were ignored, but the information was withheld. Efforts have been hampered, "Meadows said.
Meadows (who later became Trump's chief of staff), Rep. Jim Jordan (R-Ohio) and other conservatives subsequently filed articles of impeachment against Rosenstein, although they later withdrew.
Meadows may be next to face the charges.