William Shatner protagonist of the new advertisement for Pedego electric bikes
Shatner is a true Pedego customer passionate about electric cycling
FOUNTAIN VALLEY, California, January 15, 2019 – Pedego® electric bikes today announced a series of new commercials starring William Shatner, who was the guest of honor at the annual dealership conference in December. Shatner, is a true Pedego customer who regularly drives his Pedego for exercise and fun, often with his 15 family members spanning three generations.
"At my age, I'm riding my Pedego electric bike which makes me feel like a kid again," said William Shatner. "Electric cycling helps me stay active, exercise and spend time with my family. And most of all it's fun! "He said. He discovered Pedego bicycles in 2012 at the Pedego store in North Hollywood, where he received his first two bicycles for himself and his wife Elizabeth.
"Bill Shatner proves that age is just a number. Riding a Pedego is fun and great exercise for all ages, "said Don DiCostanzo, CEO and co-founder of Pedego.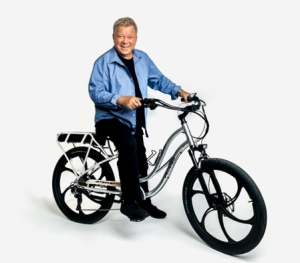 Produced by the Los Angeles-based BPG, the commercial stars William Shatner in three scenarios:
Hunting: Shatner is on his Pedego electric bike being chased by a traffic cop. When the cop finally catches up with him, he asks where Shatner got the bike.
The doctor: In a doctor's office with a patient undergoing a proctology exam, Shatner shares that Pedego electric bikes are so much more fun.
The sensation: Shatner is enjoying the feeling of freedom his Pedego electric bike gives him as he rides with a singing gospel choir.
As an accomplished actor and savvy businessman, Shatner enjoyed getting creative input in Pedego's "The Chase" commercial.
"I had a lot of fun making these electric bike commercials. It could be said that I have been accused of making them, "William Shatner said.
"It's not every day that you work with a legend and an icon. Mr. Shatner not only brings his unique personality to the table, but he truly believes in the product he is supporting, "said Steph Sebbag, CEO and partner of Bgp." He's one of Pedego's biggest fans! And that adds a lot to the story. . We are also advocates of the brand and enjoy witnessing how communities of people are inspiring to go out, have fun and be active. "
Bpg is an award-winning, full-service creative advertising agency operating at the intersection of brands and the entertainment industry. Through a 360 ° approach, Bpg conceptualizes clean, avant-garde and complete campaigns, with wide-ranging thinking. Bpg customers include Netflix, Marriott, Spectrum, Uber, Warner Bros, and others.
The commercials will begin airing in mid-January on Google, Facebook and other outlets nationwide.
Information on Pedego electric bikes
Pedego® Electric Bikes is the number 1 electric bike brand in the United States, according to Navigating Search. Sold in over 140 Pedego branded stores and hundreds of independent electric bike dealers around the world, Pedego electric bikes have 250 to 500 watt motors that allow riders to conquer hills and breezes through headwinds, covering distances of up to 60 miles on a single charged battery. The twist-and-go throttle gives riders instant manual control over their speed while Pedal Assist automatically adds power to their pedaling. Available in hundreds of color combinations, the innovative and high-quality Pedego models "pedal or not" include cruisers, tandems, commuters, fat-tire bikes, mountain bikes, cargo bikes, a trike and a comfortable folding electric bike. Pedego electric bicycles offer fun, exercise and an eco-friendly alternative for transportation, transforming life with fun and joy. Free test rides are available in all Pedego stores. Founded in 2008, Pedego based in Orange County, California inspires cyclists to say "Hello, Fun!"
PR CONTACTS:
Teri Sawyer, T & Co.
714-801-1687
Sandra Eckardt, T & Co.
949-400-2258